Tokyo 2020: GB skateboarders' Olympic hopes put at risk by 'terrible' funding
By Alistair Magowan
BBC Sport
Last updated on .From the section Olympics
The presence of British skateboarders at the 2020 Olympics is being put at risk by "terrible" government support, says a leading competitor.
Sam Beckett, who aims to take part when the sport makes its Olympic debut in Tokyo, says Britain is "so far behind" other countries.
This year's national championships were cancelled because of a lack of funding.
Skateboard England has five months to find sponsors for the 2019 event, which would carry Olympic qualifying points.
It cannot access more Sport England funding to help stage the championships, and says it does not have "the expertise to source sponsorship on a national level".
More than 534,000 people take part in skateboarding in England, and 750,000 in the United Kingdom, with 85% of them under the age of 16.
Beckett from Norwich, says not staging a national championships next year "certainly doesn't help" his Olympic hopes and he cannot access elite funding via UK Sport because Skateboard England could not "guarantee the team would get medals" at Tokyo.
"There are so many talented British skateboarders," Beckett, 26, told BBC Sport. "The UK is so far behind as far as facilities and government support goes. It's terrible.
"The perception of skateboarding from people who decide where youth sport funding goes needs to change."
UK Sport says its "funding policy prioritises investment to sports and athletes with the strongest medal potential", but it will review its policies after Tokyo following a public consultation.
A Sport England spokesperson said it had "invested almost £3m in over 70 skateboarding projects and parks since 2009" and had provided £142,000 to Skateboard England to help them become a "sustainable organisation".
A statement added: "Skateboard England were aware that this support was for a limited period, after which they would need to be self-supporting."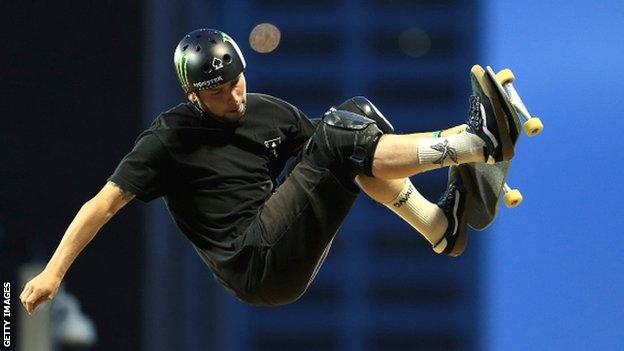 'No national championships would hamper Olympic chances'
Skateboard England chief executive James Hope-Gill said he would be "very surprised" if Great Britain was not represented at the 2020 Olympics, with skaters such as Beckett, Alex Decunha and Jordan Sharkey potential qualifiers.
But the governing body, set up in 2015, is "frustrated" by a "catch-22 situation" where it cannot access more funding to help the sport grow.
Hope-Gill said a large proportion of the £142,000 from Sport England was paid to an agency that gave advice on how to operate without further reliance on public funding.
He said other European countries, such as France, benefit from having money to run grass-roots and elite-performance programmes.
Hope-Gill said he was confident a national championships would take place next year.
He told BBC Sport: "It's really disappointing that we had to postpone them this year, both from a profile and competitor point of view.
"From an Olympic point of view, it's not a disaster, but it certainly doesn't help.
"If we don't have a national championships in the qualifying period [2019-2020], it will hamper our skateboarders and it would be detrimental to them qualifying for the Olympics.
"Sport England have given us some funding in the past. We are unique in the sense we are a new sport that suddenly find ourselves in the Olympics and maybe that has caught people unaware."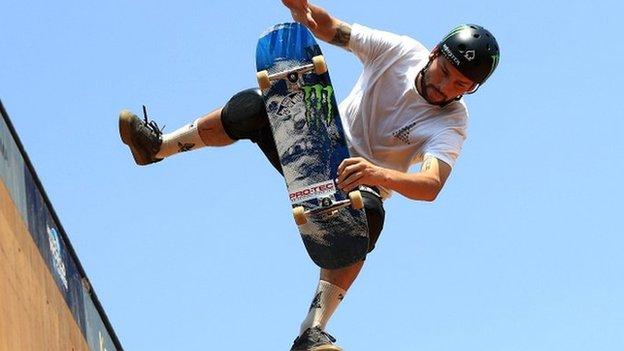 'Skateboarding is here to stay'
Beckett, who is based in the United States, said it was "sad" to hear the national championships were not taking place and that it is a "massive shame" that British skateboarding cannot access more funding.
"When I see what goes on in the United States, Brazil, China, Japan and France, it's amazing that skateboarding is supported so much and that young people are actually given opportunities to move forwards with it," he said.
"We have the talent. They're just not always given the opportunity to travel and progress with it.
"Skateboarding is in the Olympics to increase TV ratings with younger people, so it will stay in, for sure. The progression of the sport is inevitable.
"A lot of other countries see that skateboarding is becoming respectable and it's nurturing youth sport. So instead of just putting money into potential medallists, they are putting money into skateboarding and youth programmes.
"The UK should be doing the same. Facilities and support should be provided for skaters because not everyone wants to play football these days."