UK Sport: Nearly one in three elite GB athletes experienced or saw 'unacceptable behaviour'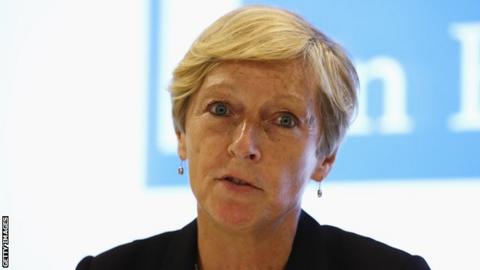 Nearly one in three British Olympic and Paralympic athletes have experienced or witnessed "unacceptable behaviour" in their elite programme, according to a UK Sport report.
The 'Culture Health Check' report was commissioned after a series of athlete welfare and bullying scandals.
More than 90% of athletes and staff said they were proud to be part of their programmes.
Yet there were concerns over giving feedback and mental health support.
Almost a third of athletes (31%) disagreed they had "opportunities to give feedback without fear of negative consequences" in their world-class programme.
One in six athletes said they had experienced "unacceptable behaviour", with a similar number saying they had witnessed it, but only 24% reported it to their national governing body.
Nearly a quarter (24%) said they were dissatisfied or very dissatisfied with the "measures taken in their sport to optimise the mental health" of high-performance athletes.
All sports were invited to take part in the review, with 682 athletes responding out of 895 asked.
UK Sport said the results are "largely encouraging" but acknowledged "some clear areas for improvement" with a need to "enhance feedback", "address unacceptable behaviour" and "understand more about mental health".
"The findings prove that the majority of the high-performance system is working brilliantly well, is valued by the athletes and staff and is enabling them to achieve amazing things in very challenging circumstances," UK Sport chief executive Liz Nicholl told BBC Sport.
"But every issue raised in a report like this is very serious and every sport will develop an action plan to address its specific issues.
"We need to create a system where the quality of the discussion is improved and the athlete's feedback is as valued as the coach's advice and support."
Several British sporting governing bodies have been embroiled in controversy around duty of care standards, including cycling, gymnastics, taekwondo, Para-swimming and Para-snowsport.
In February, the BBC revealed a quarter of Britain's leading Para-athletes said they did not feel cared about as a person.
In response to Thursday's report, UK Sport announced a new range of initiatives aimed at improving athlete welfare.
The agency will double its funding of the independent British Athletes' Commission (BAC) to £1m before the 2020 Tokyo Olympics and Paralympics.
"There should be routes for athletes to voice their concerns and be heard, ideally within the sport, so that concerns can be dealt with early doors," added Nicholl.
"But failing that, an athlete needs an effective and supportive BAC that they can turn to for independent support and help."
UK Sport says its increased funding for the BAC will allow the organisation to have a casework officer in the north and south of the country, and provide continuous support rather than just responding to incidents.
A series of roadshows are also being staged around the country, linking up current and former athletes with careers advice and workshops.
The report also found there have been improvements in whistleblowing and reporting procedures, plus more support around mental and physical health issues.
Ian Braid, the managing director of the independent advisory organisation Duty Of Care In Action sport (DOCIAsport) and former head of the BAC, said he was "pleased" about the funding increase.
"However, the key recommendation in Baroness Grey-Thompson's duty of care review for the government, which stated that the BAC should be independently-funded, has been ignored.
"This is a shame as that would have given athletes more confidence in the system and that genuine grievances would be properly investigated and disclosed."
Analysis
BBC sports editor Dan Roan
This could serve as a wake-up call for British sport. The survey paints a mixed picture of the Olympic and Paralympic landscape.
On the one hand, nine out of 10 respondents answered positively about the quality of support they receive, and the pride they feel representing their country.
But after a spate of bullying scandals in a variety of publicly funded sports over the past year, it is also alarming to learn that so many athletes have experienced unacceptable behaviour, and clearly fear being deselected if they speak out about it.
UK Sport says the fact they were prepared to conduct such a study proves they are addressing the problem and the additional funding for the British Athletes' Commission will be welcomed by many.
But some critics would have liked to see the establishment of an independent sport ombudsman to rule on disputes, and greater rights for athletes in the contracts they have to sign in return for funding.
Meanwhile, debate will continue over whether British sport is any different from other walks of life when it comes to duty of care, or if the 'no-compromise' approach to the pursuit of medals is to blame for failings.