Tokyo 2020: Olympic funding reprieve for badminton and archery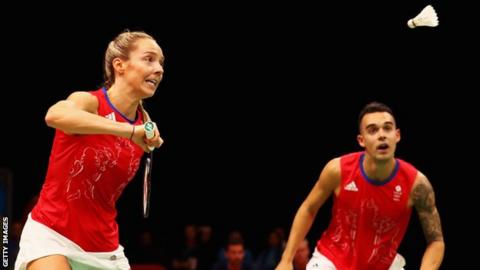 Great Britain badminton duo Chris and Gabby Adcock will receive funding for the Tokyo 2020 Olympics after UK Sport changed its stance.
Badminton was one of five sports to lose all its funding for the next Olympic and Paralympic cycle but bronze for the Adcocks at the 2017 World Championships has earned them a place on the new 'medal support plan'.
Archery duo Patrick Huston and Naomi Folkard will receive a similar reprieve after their world bronze last year, with over £2.5m invested in the plans.
Badminton was given £5.74m for the Rio 2016 cycle and set a target of winning one medal, with Marcus Ellis and Chris Langridge taking bronze in the men's doubles.
Although badminton and archery will now gain funding of £630,000 each before Tokyo 2020, Ellis and Langridge have not been selected for the 'medal support plan' investment.
The increased investment has seen UK Sport raise GB's Tokyo Olympic medal target range to 54-92 (from 51-85) and its Paralympic medal target range to 119-168 (from 115-162).
Adrian Christy, Badminton England chief executive, said the organisation would meet with UK Sport to iron out the details of the funding but welcomed the news.
"We were understandably very disappointed by the decisions taken by UK Sport 12 months ago. But we regrouped and came back stronger," he added.
"We have just seen one of the most successful medal-winning years in the recent history of the sport."
Which other sports have benefited?
Five new Olympic and Paralympic sports - Para-taekwondo, Para-badminton, sport climbing, karate and BMX freestyle - will also receive a share of over £1m to fund medal potential athletes.
Shauna Coxsey will benefit from a boost to her 'interim funding' having been the 2016 and 2017 world champion in bouldering, one of the three disciplines of sport climbing.
She told BBC Sport: "It will make a huge difference. For a long time I've been working really closely with private sponsors but I'm really excited to have the opportunity to train to be the best possible climber I can be."
Wheelchair rugby was another of the five sports to lose all its funding but the British team will receive £50,000 of "transitional" funding after winning European gold in 2017.
Cycling will receive more funding than any other sport, with the new total having risen by £1.8m to £24.8m.
British Cycling's performance director, Stephen Park, said: "The Great Britain cycling team's primary objective is clear - to win Olympic and Paralympic medals - and our aim for BMX Freestyle Park is no different.
"We know UK Sport face tough decisions when deciding how to allocate funding, and we're extremely grateful for the additional sport we are set to receive to support our medal ambitions for Tokyo 2020."