Tokyo 2020 Olympics: British climber Shauna Coxsey confirms bid to compete at Games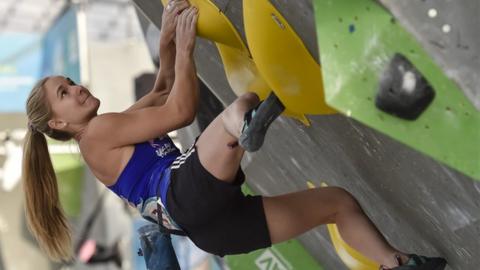 Britain's double overall World Cup champion Shauna Coxsey will bid for a place at the Tokyo 2020 Olympics.
Climbing is one of four new sports set to make Olympic debuts at the Tokyo Games, but some climbers have expressed concerns about the proposed format.
Athletes will have to compete across all three disciplines - bouldering, lead and speed - with scores combined to decide the medals.
"It's exciting and daunting," Coxsey told BBC Sport.
The 24-year-old Sheffield-based climber - who specialises in bouldering events, but also competed in lead as a teenager - had initially been reluctant to commit to an Olympic bid.
"I think I initially saw it as a bit scary and as a risk as no-one has done it before and I wanted to maintain my current level in bouldering," said Coxsey, who became Britain's first-ever overall Bouldering World Cup champion in 2016.
"Having spent time to consider my options I'm now really confident that adding the two extra disciplines [lead and speed] can actually make me a better athlete."
When UK Sport announced their funding awards for the four-year cycle leading into the Tokyo Olympics last year around £11m was safeguarded for Olympic debut sports like climbing.
The funding body wanted extra time to consider whether those sports had genuine medal prospects.
They have recently begun to back Coxsey with 'interim funding' to support her transition to Olympic climbing.
"The growth of the sport in recent years has been bigger than any of us ever imagined, but I feel proud to have the opportunities I do," she added.
"I'm ambitious, very determined to be as good as I can be and I find the idea of working towards the Games really motivating."