Olympic Games: Athletes' villages could be scaled down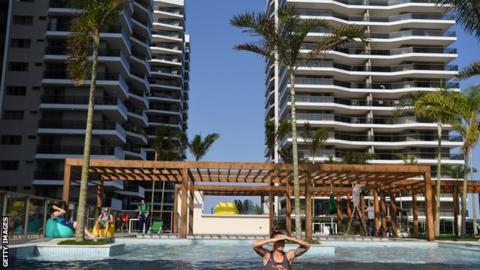 Athletes' villages could be scaled down as part of the International Olympic Committee's plans to cut costs at future Games.
Paris was awarded the 2024 Olympics after four of the six cities withdrew their bids over funding concerns.
The IOC has written to 28 countries asking for ideas and savings could be introduced before the Tokyo 2020 Games.
"We have to be satisfied there's no impact on services for the athletes," IOC vice president John Coates said.
"We are putting a number of questions as to how we think we can find savings by reducing, to an acceptable level, the level of service in the Olympic village," he added.
The first official budget for Tokyo 2020 was released in December and was below a cap of 2tn yen (£13.8bn), but it was still about six times more than the original estimate and organisers pledged to make savings.
Coates said the IOC would share the responses of the 28 nations with its athletes commission.
Recommendations will be presented at the IOC's executive board meeting in December, he said.
"National Olympic committees might receive some financial compensation to give up some beds," added Coates. "They might receive some compensation in return for more transferable accreditations for their support staff."
In September the IOC awarded Los Angeles the 2028 Games as well as Paris 2024, the first time it has awarded two Olympics at the same time.