2020 Olympics: Climbing faces challenge for acceptance
By Nick Hope
BBC Olympic sports reporter
Last updated on .From the section Olympics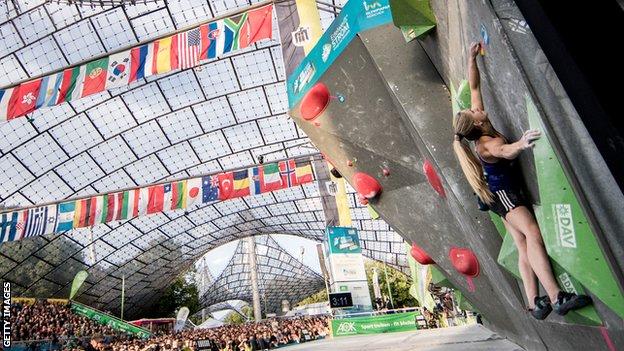 There has arguably never been an event more fitting of the Olympic motto - 'faster, higher, stronger' - than sport climbing.
Some believe the new triathlon format, which will see athletes awarded medals based on scores across three formats - speed, lead and bouldering - is an exciting innovation.
"Sport climbing is like asking Usain Bolt to run a marathon and then do the hurdles," says GB bouldering World Cup champion Shauna Coxsey, who speaks positively about the decision.
Others view it is a gimmick, destroying the art of each specialist climbing discipline and worry that Olympic rules risk of 'over regulating' the sport which thrives on freedom and expression.
It is a debate freestyle skiers and snowboarders have had since the inclusion of halfpipe, slopestyle - and the forthcoming addition of Big Air - into the Winter Olympic programme.
This weekend British fans will have the chance to see athletes perform in two of the three disciplines - speed and lead - at the Edinburgh World Cup.
Ahead of the biggest climbing event in the UK since the sport was added to the 2020 Games programme, BBC Sport assesses whether it will be a hit the Olympic movement hope it can be.
* sport climbing, karate, skateboarding and surfing are the new sports, but there's also 3v3 basketball and freestyle BMX as well as a host of mixed events set to make their Olympic bows in Tokyo.
What is sport climbing?
A total of 40 athletes (20 male and 20 female) will compete for Olympic sport climbing medals in Tokyo with the finishing places based on combined scores from each of the speed, lead and bouldering disciplines.
Speed climbing sees athletes go head-to-head in a knock-out format where they attempt to climb the 15m wall quicker than their opponent.
The design is the same in every venue in the world with a buzzer starting the race and athletes claiming a win by hitting an electronic pad at the top.
The world record for men stands at 5.48 seconds and for women is 7.46 seconds.
In bouldering, competitors perform 'creative' gymnastic climbs, without ropes, a short distance off the ground.
Victory is secured by achieving the set challenge in the shortest number of attempts in a timed period.
Lead climbing is the oldest and longest-form of sport climbing with competitive events first established in the mid 1980s.
Athletes attach themselves to the wall for safety as they progress to extreme heights on a man-made structure.
Victory is achieved by either climbing to the top of the course in the quickest time or - as is more frequently seen - by reaching a higher point than their opponents before falling.
Why is it in the Olympics?
With established international sports like squash unable to attain a place at the Olympic Game, the inclusion of a new and untested event has raised some eyebrows.
However, more than 140 countries are believed to host climbing walls, with the rapidly expanding number of climbers around the world - of around 35m - averaging 23 years-of-age, according to International Federation of Sport Climbing (IFSC) figures used as part of the 2015 bid to become an Olympic sport.
This fits perfectly with the International Olympic Committee's [IOC's] 2020 Agenda which has 'youth appeal' as a key target for the future of the Games.
"We want to take sport to the youth," said IOC President Thomas Bach.
"With the many options that young people have, we cannot expect any more that they will come automatically to us - we have to go to them."
Not everyone is happy...
The explosive, unpredictable, dramatic nature of speed-climbing is likely to make it one of the most captivating events at the Olympics - but world's best are unlikely to be in Tokyo.
While climbers from lead and bouldering disciplines have essentially similar physiques and transitioning between the two is not unheard of - speed climbing is entirely different and a very specific specialism.
Their athletes are built purely for speed and power and while strength is clearly important for the other disciplines, lead and bouldering athletes tend to be lighter, more agile and have greater endurance capacity.
Adam Ondra of Czech Republic, is the only man in history to win both lead and bouldering World Cups in the same year - but sees speed events as "artificial" and says he may boycott the Games.
"I think initial excitement about climbing being in the Olympics was huge, but now dampened as people have realised they can't specialise," GB climber Molly Thompson-Smith told BBC Sport.
"It's a start though and hopefully there'll be more events at the Olympics in the future so people can specialise."
American Alex Honnold is considered one of the world's best outdoor 'free' climbers, but will not bid for a place at Tokyo 2020.
He told Reuters last year that he is more of an "adventurer" and that "competitive climbing is basically a whole different sub-sport."
Who are the GB ones-to-watch?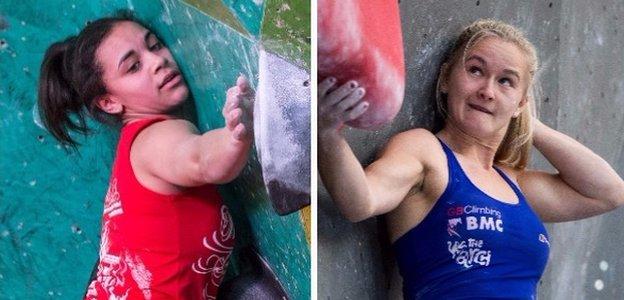 Shauna Coxsey is Britain's highest-profile climber having won the last two overall Bouldering World Cup titles, but will not be competing in Edinburgh.
The 24-year-old has focused on increasing her domination of bouldering events over the last two years, but is expected to try out speed climbing next year and return to lead competition, which she last entered as a junior.
Will Bosi is a lead specialist and, as the 18-year-old still qualifies for junior events, he has had the advantage of being able to compete in the only international combined events to have been hosted to date.
He finished fourth at the World juniors in Innsbruck last month and also benefits from being based near to the only 15m speed wall in operation in the UK in Edinburgh.
Thompson-Smith is a lead specialist whose heroes include Dame Kelly Holmes and Dame Jessica Ennis-Hill.
The 19-year-old has been speaking passionately and publically about her hopes climbing would be included in the Olympics since she was 15 and last month became the first British climber to reach a lead World Cup final since 2004.
She competed in bouldering events when she was younger and, like Bosi, her youth will make adapting to speed events easier than for older athletes.
Jim Pope is another teenage GB climber who favours lead events and finished 13th in last month's Arco World Cup in Italy.
The 18-year-old is also a strong bouldering climber too and has competed in the first international combined event - the World Youth Championships in China last year - which mimicked the expected Olympic competition format.
What are the challenges ahead of Tokyo 2020?
Funding
When late last year UK Sport announced their financial support packages for the period leading into the Tokyo 2020 Olympics around £11m was safeguarded for the new sports.
The funding body stated they needed more time to assess their realistic medal potential - which means a present none of GB's leading prospects receive any support.
"It [funding] would make a really big difference as we currently get pretty much no support through our own federation," Bosi tells BBC Sport.
"I work part-time instructing and course-setting which I enjoy, but it's exhausting dragging 20 kilos of equipment up and down a wall all day.
"Not having to do that would mean I wouldn't be absolutely drained for training and would also mean I wouldn't have to rule out competitions in China because I can't afford to go."
Bosi continued; "I think we have athletes who could do really well [in Tokyo] and funding wouldn't just help us get there, but could also help us potentially challenge for a medal."
UK Sport are likely to reveal an update on the situation around the funding of new Olympic sports in their annual review around December this year.
Events:
To date only two international events featuring all three disciplines as 'combined' competitions have taken place and both have been for juniors only.
While this weekend's World Cup in Edinburgh will feature Lead and Speed competitions, there are no bouldering or combined elements.
The IFSC says this will change in the coming seasons, but specific dates and events have yet to be revealed.
"I'd like an idea of how the competition will work [in Tokyo] as that will have a massive impact on how we train," said Bosi.
"At the Youth Worlds [last month] there was an hour or two gap in between the individual disciplines in the combined event, but the timetable was a bit chaotic.
"If it's only a 15-minute gap at the Olympics, then we'd need to change our training to be far more intense in a day instead of spread out - so I'd really like to see more competitions."
Thompson-Smith sees the Edinburgh World Cup as an "exciting chance" to showcase her sport to people in the UK, but also hopes for more opportunities to practice for the Olympic events soon.
Climbing's governing body [IFSC] have less than three years to perfect their preparations ahead of the sport's Olympic debut at Tokyo 2020.