World Anti-Doping Agency: Samples containing banned substances rise by 20%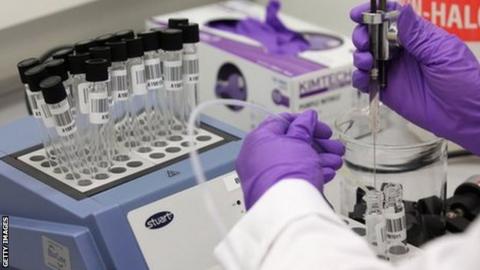 The number of doping tests returning banned substances rose by more than 20% in 2015, according to a report by the World Anti-Doping Agency (Wada).
Anti-doping authorities collected a record 303,369 samples - 7% more than 2014 - with 3,809 positive results.
It includes a period in which Dr Richard McLaren's report claims Russia was operating state-sponsored doping.
That led to Wada recommending a blanket ban for all Russian athletes from the 2016 Olympic Games in Rio.
Of the 303,369 samples collected in 2015, Wada said 5,912 contained either adverse analytical findings, which are prohibited substances (3,809), or atypical findings needing further investigation (2,103).
Adverse findings also include athletes' approved Therapeutic Use Exemptions (TUE), which let athletes take prohibited substances if there is a medical need.
The use of TUEs came under scrutiny following the release of athletes' data by computer hackers known as Fancy Bears in September, including those of British cyclists Sir Bradley Wiggins and Chris Froome.
The findings in brief
The report is the first since Wada introduced a new code of compliance for anti-doping agencies.
Wada President Sir Craig Reedie said testing was critical in "working towards fair competition and clean sport".
303,369 samples were analysed by Wada-accredited laboratories across Olympic and non-Olympic sports in 2015, compared to 283,304 in 2014.
Adverse or atypical findings were returned for 5,912 samples, 1.95% of all tests carried out, compared to 3,866 in 2014.
Football was the sport that carried out the most tests last year, with 160 samples out of 32,362 taken detecting banned substances.
Banned substances were also found in a wide range of non-Olympic sports including boules, tug of war and sleddog.
Which sport carried out the most tests?
Football was responsible for conducting the most tests, with 32,262 samples collected across the 11-a-side game, beach football and futsal.
Athletics bodies also carried out more than 30,000 tests, with 0.9% returning adverse findings, while for cycling's 22,652 samples that figure was 1.1%.
Wada's report shows bodybuilding was the sport that returned the highest percentage of adverse findings at 15%, with Muay Thai returning 7.3% positive tests.
The likes of casting (7.1%), draughts (5%) and darts (4.5%) also featuring highly because of their small sample sizes.
The geography of anti-doping
Wada's 2015 report reveals which national anti-doping authorities test their athletes most frequently - though it does not include figures on the number of active competitors by country.
UK Anti-Doping, the body responsible for testing British athletes, analysed nearly 6,000 samples of which 0.8% returned adverse findings.
The McLaren report claimed Russia's state-sponsored doping programme lasted for four years, up to August 2015.
Wada's data shows Russia carried out 12,536 tests for that year, of which 1.2% returned adverse findings.
Most tests by national anti-doping organisations
China: 13,802
Germany: 13,546
Russia: 12,536
United States: 7,547
France: 7,141
UK: 5,973
Subscribe to the BBC Sport newsletter to get our pick of news, features and video sent to your inbox.