Rio 2016 Olympics: Heffernan finishes sixth in fifth Games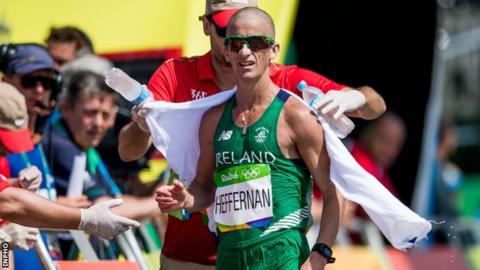 Ireland's Robert Heffernan finished sixth in the 50km walk in 3:43.55 at his fifth Olympic Games in Rio.
Japan's Hirooki Arai, who came home third, was subsequently disqualified for a collision with Canada's Evan Dunfee, but was reinstated to the bronze medal position on appeal.
Heffernan, 38, was eighth in the 20km in Beijing, ninth in London four years later and third in the 50km in 2012.
He had previously made his debut in Sydney in 2000.
"At 36-38km I thought I was going to win it," said Heffernan afterwards.
"I got bad cramps then but it's still a magnificent performance. I'm still there or thereabouts so you have to take the positives.
"This is the only day of the year that counts. Obviously I would have liked to have won a medal. I love training in the summer and I love training for these championships.
"It's all about tunnel vision and getting ready for the big day," added the 2013 World Championship gold medallist.
Brendan Boyce finished 19th in 3:53.59 but Alex Wright was forced to withdraw mid-race due to a fluid intake problem.