BBC Sport - Rio Olympics 2016: Cheerful Usain Bolt storms into men's 200m final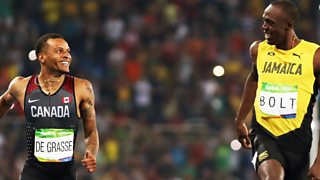 Bolt & De Grasse have a laugh in 200m semis
Usain Bolt enjoys a laugh with Canada's Andre de Grasse while crossing the finishing line as he records his fastest time of the season to storm into the men's 200m final.
You can catch up on the rest of the athletics here.
Watch the semi-final in full here.
Available to UK users only.