Rio Olympics 2016: Team GB athlete 'robbed' at Games after night out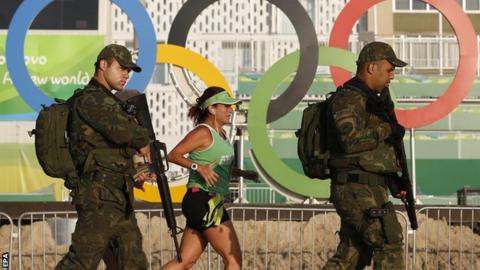 A Team GB athlete has been robbed while returning to their accommodation at the Olympic Games in Rio.
The Guardian reported that the victim had been held up at gunpoint while enjoying a night on the town in the early hours of Tuesday morning.
A spokesman for the British Olympic team confirmed an "incident of theft", adding: "All members of our delegation, including the individual concerned, are accounted for, and are safe and well."
GB took 366 athletes to Rio.
They have since been reminded of security protocols, including not to wear official kit outside of the Olympic Village and not to take local taxis, according to the Guardian.
It said a letter from GB officials stopped short of issuing a curfew on athletes, but warned them not to carry valuables and to inform team management of any plans to stay in Rio overnight.
British boxer Joshua Buatsi told BBC Sport said he "felt safe", and that the security briefings were "common sense", advising against "wearing flashy watches or having jewellery on display".
He added: "When I go out I don't have on anything to catch the eye of someone looking to rob you."
Asked if it was safe for athletes to leave the Olympic Village, International Olympic Committee spokesman Mark Adams said it was a matter for the national teams.
"It wouldn't be for me to make a blanket ban. Stopping people leaving the village would be crazy."
Rio 2016 spokesman Mario Andrada added: "This discussion needs to wait for the investigations, especially in the case of the American athletes. We need to conclude investigations before making an overall assessment."
United States swimmers Ryan Lochte, James Feigen, Gunnar Bentz and Jack Conger have claimed they were robbed in a taxi at gunpoint in Rio on Sunday but police have queried their accounts.