BBC Sport - Rio Olympics 2016: Science behind Usain Bolt's 100m win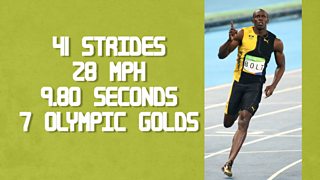 The science behind Bolt's 100m victory
Usain Bolt is the fastest man on the planet and picked up his seventh Olympic gold medal with victory in the 100m in Rio - but what happens when he puts his body through the race? Professor John Brewer on BBC Radio 4 explains the phases of the sprint and the effects it has on the athlete's body.
To relive the historic 100m final, click here.
Available to UK users only.