Rio Olympics 2016: NI sailors Ryan Seaton and Matt McGovern now eighth in 49er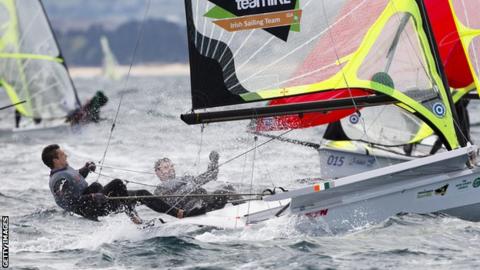 Northern Ireland sailors Ryan Seaton and Matt McGovern's 49er medal hopes appear over in Rio as they head into Thursday's medal race in eighth spot.
Ireland duo Seaton and McGovern were in danger of missing out on the final race at the Olympics after finishing 20th and 19th in Tuesday's first two races.
However, a win in race 12 saw the Irish pair move back into the top 10 boats who will race on Thursday.
Seaton, 26, and McGovern, 28, were in sixth spot going into Tuesday's races.
Overnight, the Team Ireland duo were upgraded from 13th to 12th spot in Monday's first race which led to them moving from seventh to sixth overall.
Carrickfergus man Seaton and McGovern, from Bangor, missed on the medal race in London four years ago when they finished 14th overall.
The pair had been in fourth position at the halfway point of the competition, thanks partly to a win on Saturday.
New Zealand's pre-event favourites Peter Burling and Blair Tuke look set to secure the gold medal, but the other medal positions remain up for grabs between the German, Australian and British boats.
The New Zealand pair lead the competition on 33 points with Germany (67) battling for the other medals with Australia (70) and British duo Dylan Fletcher and Alain Sign (80).