Rio Olympics 2016: Sudanese refugee runners make track and field debut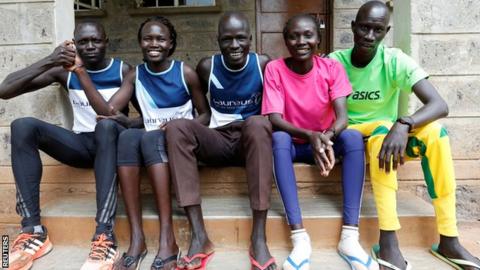 Athletes representing the Refugee Olympic Team said they were "representing peace" as they made their track and field debut in Rio.
Sudanese runners Yiech Pur Biel, Anjelina Nadai Lohalith and James Nyang Chiengjiek all raced on Saturday.
Pur Biel finished eighth in his men's 800m heat in one minute 54.67 seconds, while Chiengjiek finished last in his 400m heat in 52.89secs.
Lohalith competed in the women's 1500m heats, finishing 14th in 4:47.38.
"Every one of us is using their time well here, representing peace for the sake of their countries," said Chiengjiek, who left Sudan as a child to avoid being recruited as a soldier.
South Sudanese runner Paulo Amotun Lokoro will be the next Refugee Olympic Team athlete to compete in Rio in the men's 1500m heats on Tuesday.