BBC Sport - Rio Olympics 2016: Ennis-Hill trails Belgium's Thiam after heptathlon long jump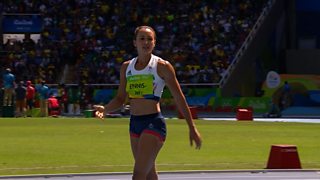 Just five points separate leaders after heptathlon long jump
Belgium's Nafissatou Thiam produces a personal best 6.58m in the long jump to lead defending champion Jessica Ennis-Hill by five points with two events of the Olympic heptathlon to come.
Ennis-Hill jumped 6.34m to move to 5,013 points going into the final evening while fellow Briton Katarina Johnson-Thompson jumped 6.51m and lies third on 4,967.
You can catch up with the latest in the athletics here.
Available to UK users only.