BBC Sport - Rio 2016 Olympics: Battling Ireland hockey heroes bow out after Argentina defeat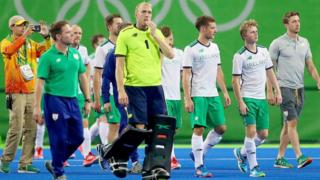 Battling Irish hockey heroes bow out
Ulster duo Michael Watt and Jonathan Bell struggle to hide their disappointment as Ireland's hockey team bow out of the Olympics after a memorable tournament.
Ireland needed to beat Argentina to clinch a quarter-final place but a 3-2 defeat saw Craig Fulton's side exiting.
"Fair play to the lads, we put everything out on the pitch," said Watt.