Rio 2016 Olympics: Fran Halsall race delayed after bus mix-up sends her to wrong venue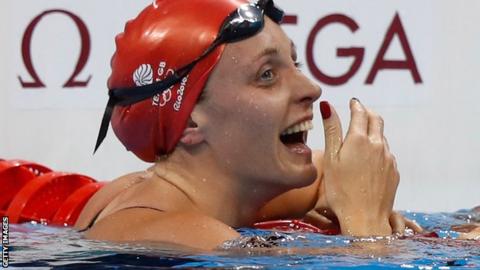 Britain's Fran Halsall said "the whole Olympics had to be stopped for me" after her bus went to the wrong venue.
The 26-year-old took an Olympic Village bus with fellow 50m freestyle semi-finalists Jeanette Ottesen of Denmark and Aliaksandra Herasimenia of Belarus.
However, it went to the Olympic Stadium rather than the Aquatics Stadium, despite the protests of the swimmers.
Officials were informed and altered the night's schedule, with Halsall easily qualifying for Saturday's final.
She won her semi-final in 24.41 seconds and told BBC Sport: "It hasn't derailed me. I've done it under the stress, made the final, so less stress tomorrow night, the bus turns up, it will be all good."
Asked about the unexpected detour, she added: "It took us to the Olympic Stadium, which happens to be 40 minutes in the opposite direction to the pool.
"So I ended up going and having a nice tour around the Olympic Stadium, 40 minutes back to the village and then back to the pool for warm-ups. My emotions and adrenaline were all over the place.''
She added: "If I get on the right bus tomorrow, everything will be good."