Rio Olympics 2016: Diana Bacosi wins gold in women's skeet shooting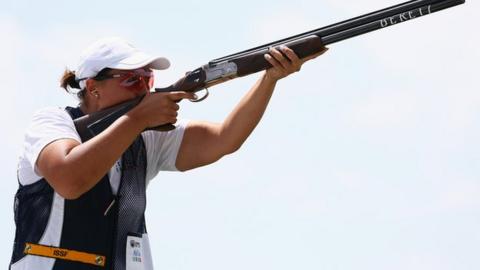 Italy's Diana Bacosi won gold in the Rio 2016 women's skeet shooting with victory over compatriot Chiara Cainero.
Cainero, 38, who won gold in 2008, missed two of her first four shots and 33-year-old Bacosi never looked like relinquishing her lead thereafter.
The USA's Kimberly Rhode beat China's Wei Ming in the bronze medal match in a shoot-off to become the first person to win Olympic medals on five continents.
Earlier, Britain's Amber Hill, 18, came last in the six person semi-final.
Hill said: "The nerves were definitely running high today, there's no doubt about that.
"No matter what you say about an Olympics it's hard out there. It's an incredible feeling to have family here."