Rio Olympics 2016: Team GB momentum & famous fans - Maddie Hinch column
Last updated on .From the section Olympics
With four wins out of four and qualification for the quarter-finals already secured, "confidence is high" among Great Britain's women's hockey team, according to goalkeeper Maddie Hinch. In her latest BBC Sport column, she talks about Team GB momentum and getting a famous fanbase...
'A dream start but a long way to go'
Our Olympics have gone well so far and we're delighted to be through to the quarter-finals. But we haven't done anything yet.
We had a dream start against Australia, a side we've often struggled against who are always medal contenders. We were clinical with goals from Lily Owsley and Alex Danson, which was key.
It was a busy game for us at the back, I was nervous beforehand but once I made my first save (and got clattered!) I was looking forward to making more saves, which is always a good sign. I was playing instinctively, I can't actually remember what I was thinking about during the game.
Everyone in the squad played their part and that performance gave us real confidence, winning 2-1 was a real platform.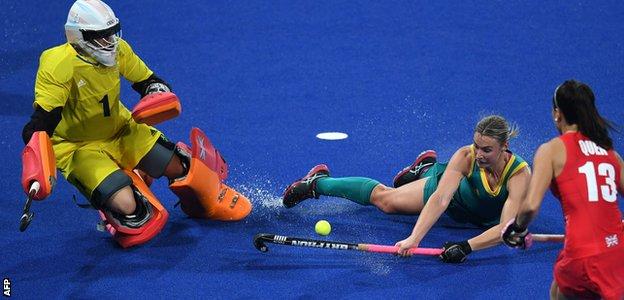 We then went into the India match, we knew we'd have to bide our time, play our own game and stamp our authority on the opposition. So when we got to 3-0 it took the pressure off. I hadn't had to do much, I had a save right at the end and I was most worried about pulling a hamstring coming off my line. I was pleased to keep a clean sheet, as a defensive unit we always love that.
Then it was Argentina in our third game, and it was a match that had everything. We went 3-0 up, they clawed it back to 3-2, we had a penalty stroke saved and then defended brilliantly, a couple of times with only nine players. I'm sure it showed people at home exactly why we love the game, and to come through a match like that and make the quarter-finals was an amazing feeling for all of us.
Every week when we're based at Bisham Abbey we have what our coach Danny Kerry calls 'Thinking Thursdays' when we run through different scenarios, like playing with nine players, not being able to communicate, varying umpiring decisions, lots of different adversities that we have to deal with in a tournament - and you could see that work manifest itself on the pitch with the way we stuck together.
On Thursday night we played Japan and made it four out of four. We had to work hard to win the game and our second goal through Nic White was absolutely brilliant, please check it out on the highlights. As a goalie I know when someone connects like that there is no way you're saving it. It showed the level of technique at the top level of our sport and was just another example of how hockey is moving forward.
Making the quarter-finals means the mood is really good. We're really positive, doing well is what we dreamed of and confidence is high - but there's a long way to go.
Great support & brother's adventures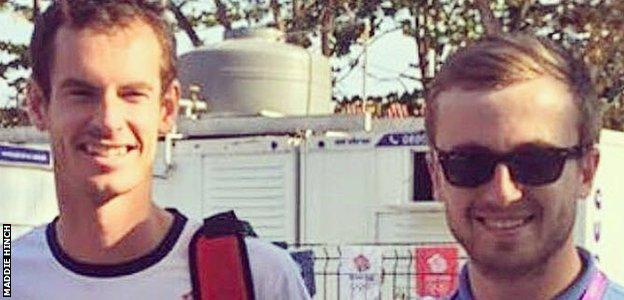 We've had great support out here and there's some very interesting outfits, I've seen fans in bowler hats, togas and full Union Jack suits. You can spot them from miles away, which is great.
This week we got to see our families for the first time which was wonderful, and at the end of a game it's perfect to look up and see them out here. They know how much it means to all of us.
My brother Lewis has been desperate to get a mention in this blog. I told him to give me a good story and he said he went bodyboarding on the Copacabana, had a photo with Andy Murray and then saw a crocodile, which seems like a decent day out to me. He's in a flat with Georgie Twigg's brother and four sets of parents, I think the two lads feel like carers for the out-of-control oldies!
God knows what they've been up to out in Rio. Lewis is a massive Sheffield Wednesday fan and he was very happy when they beat Villa last weekend, but I didn't speak to him about them losing in the cup on Tuesday night, I know when to leave him alone and I'm 100 times worse when I lose a game of hockey.
No time to train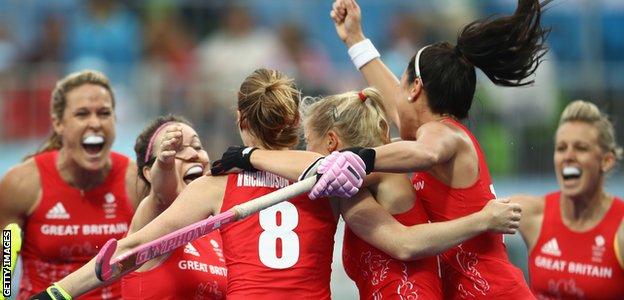 With games back-to-back, there's basically no time to train. We've been to Team GB House to use the pool and the gym, but not out on the training pitch. In tournaments in the past, I would normally train on the pitch the day after a quiet game like India, but going back a year or so I stopped doing that so that I was better able to adapt if there was a longer distance to the training pitch in Rio.
We've changed my whole routine because it would help us out here, that's the level of detail our coaches and staff go to in preparation for an Olympics. We've trained ourselves to not need specific facilities and it works.
'Murray brothers top of fanbase list'
The tennis player Jamie Murray has been really hooked on the hockey, I was chatting to him in the physio room. He and Johanna Konta were watching a match with our player David Ames, Jamie was asking about the sport and really glued. By the end of the 60 minutes 'Amesy' had the whole room on side, and everyone he spoke to said they'll follow us.
The hockey is doing well to get people excited, we're getting a fanbase and it seems the Murray brothers are top of the list. Becky James, the cyclist, said to me the matches were brilliant and she wished us good luck. It's a great sport to watch, as a group we always talk about inspiring people to get involved with the sport. I was also reliably informed that Jean-Claude Van Damme liked a Tweet from GB Hockey to the BBC, so the sport is getting bigger!
GB women's hockey Olympic results & fixtures (all times BST)
Sunday, 7 August:
Beat Australia 2-1
Monday, 8 August:
Beat India 3-0
Wednesday, 10 August:
Beat Argentina 3-2
Thursday, 11 August:
Beat Japan 2-0
Saturday, 13 August: v USA (22:00)
Monday, 15 August: Quarter-finals
Wednesday, 17 August: Semi-finals
Friday, 19 August: Final & bronze medal match
Unfortunate Alastair
On the men's team, Alastair Brogdon unfortunately pulled out through injury after the first game which is terribly bad luck. He's staying out here with the team and I think he deserves great credit for that. He's a great guy, he'll handle it well and on behalf of the women's squad I want to wish him the best of luck.
The men have still got a chance of making the quarter-finals going into their final group match against Spain on Friday (21:00 BST) - we're desperate for them to make it through and we'll be cheering them on. If they can get through, once you're in the quarters anything can happen.
'There's loads more medals to come for Team GB'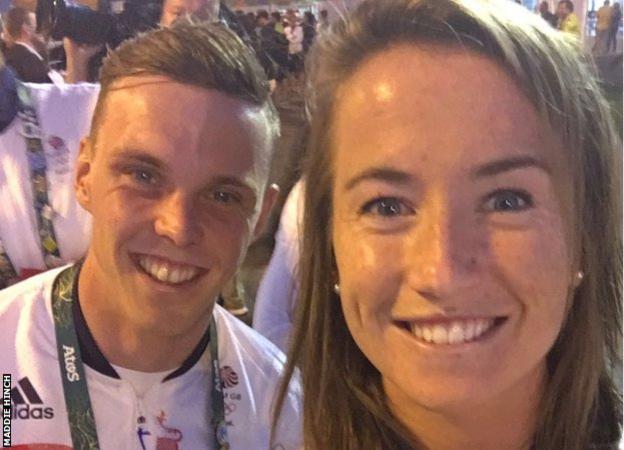 There's definitely momentum building among Team GB and it's great to see so many on the medals board at Team GB House. We watched Adam Peaty win the first gold which was great, but we couldn't celebrate for long as we went straight to bed. I know the canoeist Joe Clarke, we have said hello to each other out here and share a sponsor so I was delighted for him to win gold too.
There's loads more medals to come, I think I'm right in saying we're ahead of London at the start of day seven which is an amazing position to be in. For us, we just want to be in the running and there's lots of work to be done.
Subscribe to the BBC Sport newsletter to get our pick of news, features and video sent to your inbox.