BBC Sport - Team Refugee: From swimming the Aegean Sea to the Rio Olympics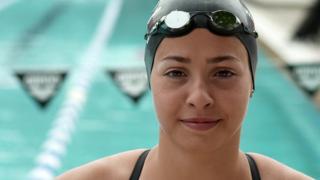 Team Refugee: Swimming for survival
Eighteen-year-old Yusra Mardini left Syria for Europe on a boat packed with refugees. With land in sight, the vessel began to sink and she and her sister had to swim the last part of the journey to Greece.
After several months in Germany, she has qualified to swim at the Rio Olympics as part of Team Refugee, which was set up by the International Olympic Committee in recognition of the worldwide refugee crisis.
You can watch the Team Refugee documentary at the following times.
In the UK, on the BBC News Channel: Friday, 29 July at 21:30; Saturday, 30 July at 00:30 and 16:30; Sunday, 31 July at 13:30.
Outside of the UK, on BBC World News: Saturday, 30 July at 01:30 and 08:30 (GMT); Sunday, 31 July at 14:30 and 20:30 (GMT); Tuesday, 2 August at 09:30 (GMT).