BBC Sport - Clare Abbott set to fulfil Olympic 'dream' by competing in Rio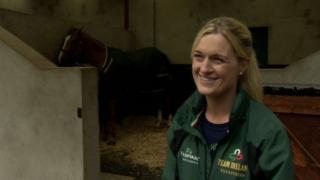 Abbott set to fulfil Olympic 'dream'
Eventing competitor Clare Abbott will fulfil her Olympic dream when she competes for Ireland at the Rio Games.
The Hillsborough woman, who first rode a pony when she was two years old, watched the Olympics and other equestrian events on television as she grew up.
"I always said to myself, 'one day I'll do this, some day I'll have a horse good enough to go there' and now it has happened I can't believe it," said Clare, who has experience of taking part in the World Equestrian Games and European Championships.
If you want to try getting into equestrian sports, have a look at our special guide.