BBC Sport - Rio Olympics 2016: Brazil skateboard scheme keeps kids from crime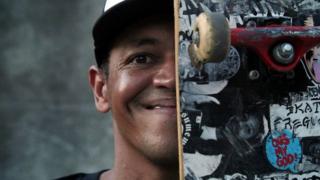 Brazil skateboard scheme keeps kids from crime
Brazil is the birthplace of one of the world's most famous skateboarders, Bob Burnquist, and Brazil is one of the world's leading skateboarding nations.
Sandro Testinha is a passionate skateboarder from São Paulo who worked as a volunteer in one of Brazil's most dangerous and violent juvenile prisons.
"I saw that many of those jailed for committing terrible crimes were just like me," he says. "The only difference was skateboarding."
He wanted to develop a skate park as a way to keep young people out of a life of crime. But finding a suitable location was hard as many areas are used for drug dealing.
But, using his contacts from his prison experience helped Sandro persuade local drug dealers to vacate an abandoned court and now he's been helping teenagers to exchange guns for skateboards.