Rio Olympics 2016: Sohrab Moradi wins -94kg weightlifting gold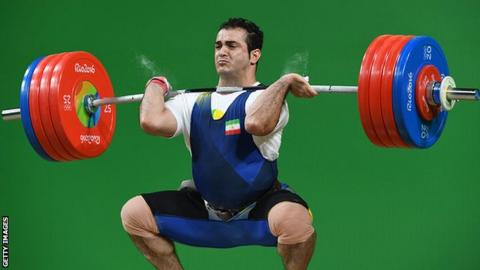 Iran's Sohrab Moradi lifted a combined 403kg to win -94kg weightlifting gold at the Rio Olympics.
The 27-year-old surpassed Belarus' Vadzim Straltsou (395kg) with two attempts left, but failed to break the 233kg clean and jerk world record - finishing with 221kg.
Aurimas Didzbalis of Lithuania took bronze, lifting a combined 392kg.
Sonny Webster, Britain's only male weightlifter at Rio, finished sixth in his group, lifting a combined 333kg.
"That was the most amazing experience of my life," said Webster.
"You only get six minutes up there so I wanted to make sure I looked around and took it all in."
Subscribe to the BBC Sport newsletter to get our pick of news, features and video sent to your inbox.