Olympic sevens rugby: Great Britain face World Cup winners New Zealand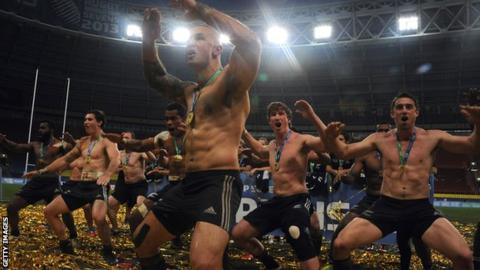 Great Britain's men have been drawn with World Cup holders New Zealand, Kenya and Japan in Pool C as rugby sevens makes its Olympic debut in Rio.
Great Britain's women will face Canada, Brazil and Japan, also in Pool C, in the group stage of the competition.
In the men's tournament, reigning World Series champions Fiji will play Argentina, USA and Brazil in Pool A.
Women's world series champions Australia face the United States, Fiji and Colombia in their pool.
The 15-player version of rugby was last played at the Olympics in 1924 and sevens will appear for the first time at this summer's Games in Brazil.
The matches will take place between 6 and 11 August, with the schedule to be announced nearer the Olympics.
The two GB teams will be composed of players from England, Scotland and Wales, who normally compete as separate teams on the international circuit.
Men's pools
Pool A: Fiji, Argentina, USA, Brazil. Pool B: South Africa, Australia, France, Spain. Pool C: New Zealand, Great Britain, Kenya, Japan.
Women's pools
Pool A: Australia, USA, Fiji, Colombia. Pool B: New Zealand, France, Spain, Kenya. Pool C: Canada, Great Britain, Brazil, Japan.