BBC Sport - Rio 2016: Great Britain win 4x100m relay gold at Athens Olympics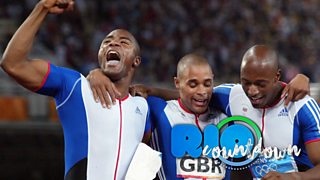 Rio countdown: GB storm to relay gold
BBC Sport continues the countdown to the 2016 Rio Olympic Games with the moment Great Britain won gold in the 4x100m men's relay at the Athens Games in 2004.
Jason Gardener, Darren Campbell, Marlon Devonish and Mark Lewis-Francis clocked 38.07 seconds with the USA one hundredth of a second behind, and Nigeria taking the bronze.
Available to UK users only.
Watch full coverage of the Rio Olympics across the BBC this summer.