IOC to provide £12m for fight against doping and match-fixing
Last updated on .From the section Olympics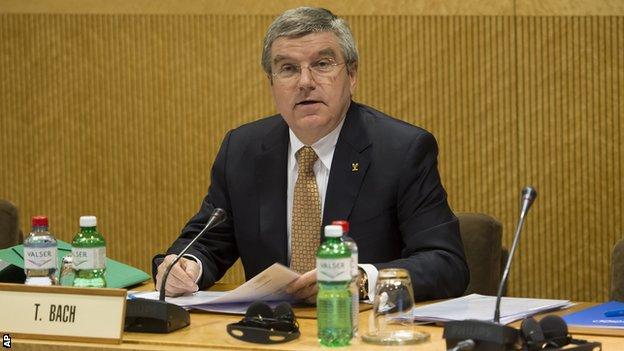 The International Olympic Committee says it will provide £12m to fund the fight against doping and match-fixing.
New president Thomas Bach, who was elected in September, said half of the money has been set aside to fund new research into anti-doping.
The other £6m will be used "to protect clean athletes from any manipulation or related corruption".
Speaking after a meeting of the IOC executive board, Bach said: "I hope the IOC members will be ready for change."
The German added: "You already see from the decisions there is a great readiness and determination for change and reforms, and the same applies to many other issues."
Bach wants to investigate whether urine and blood tests are the best way to test for prohibited substances, and whether other methods could be "more reliable".
He added: "It would be very helpful if there was another test method to find prohibited substances for a longer time."
The IOC invited governments represented in the World Anti-Doping Agency to match the amount it has pledged.
The governing body will sign a memorandum of understanding early next year with international police agency Interpol. Its plan is to establish an "Integrity Betting Intelligence System" to check for any irregularities at the Games.