Nelson Mandela: Call to give South Africa the Olympics as tribute
By Joel Hammer
BBC Sport World Service
Last updated on .From the section Olympics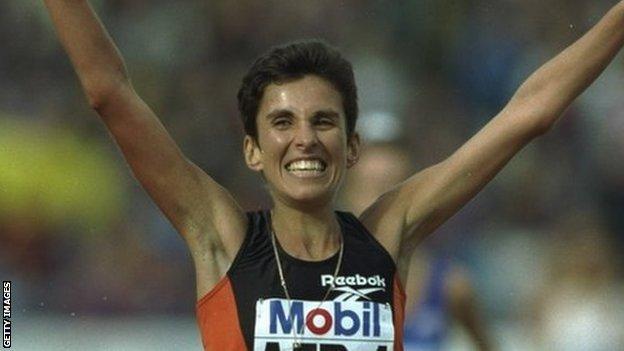 South Africa should be chosen as host for the Olympics as a tribute to the life of Nelson Mandela, according to their first athlete to win an Olympic medal in the post-apartheid era.
Elana Meyer, now 47, won a silver in the 10,000m at the 1992 Games in Barcelona, becoming the first South African athlete to claim a medal since their re-admission to the Olympic movement.
She was denied the chance to compete at Los Angeles in 1984 and Seoul in 1988 by South Africa's exclusion from competition after the 1960 Games, but believes the influence of Mandela, who died last week, aged 95, was crucial from the moment he emerged from 27 years of imprisonment in 1990.
Mandela's coffin arrived in his ancestral home in Qunu, in the Eastern Cape region of South Africa, on Saturday ahead of his state funeral on Sunday.
"If the Olympic Games can come to Africa and South Africa it will be in honour of Madiba [Mandela's tribal name]. I think it's time. It's Africa's time. It would be a fitting way to honour a great leader," said Meyer, talking on Sportshour on the BBC World Service.
"Nelson Mandela played such a significant part in my life. The moment that he was released from prison in 1990 I knew things would change. That really gave me the hope and inspiration that I might have the chance to compete internationally. Barcelona came at just the right time. I was 25 then and certainly I could not have waited a moment later."
Meyer regards the moment she met Mandela during the 1992 Games as one of her career highlights, and says it lifted the whole South African Olympic team.
"It was very special when I met Madiba in the Olympic village in 1992," she said. "He came to wish the team well and the whole team were inspired by his presence and his words. It was a magical moment.
"You could feel the pressure. We only came out of isolation three months before the Games, it's not like I had a wealth of experience racing at that level, and people's expectations were high.
"There was a lot of focus and not just on your athletic performance, but it was still an amazing privilege to be [one of] those first athletes in 30 years to walk onto the track and [I was] inspired by his presence."
Despite the high expectations, Meyer fought through a strong field, which included Britain's Liz McColgan, then the world champion, and eventual winner Derartu Tulu, from Ethiopia, to finish second and win South Africa's first Olympic medal since 1960.
"I didn't get a gold medal, but it was certainly a victory for many many South Africans," she recalled. "That's what I was celebrating. It was the end of years of isolation."
After the race, she embarked on a lap of honour with Tulu, walking hand in hand around the track. It was one of the most enduring images from that Olympics - a black Ethiopian carrying her national flag and a white South African clutching the Olympic flag.
She said: "It was a spontaneous celebration and I probably didn't realise at that moment, but it turned out to be really significant. Even today people keep telling me where they were at that moment."
That medal, and the iconic image of her with Tulu, convinced the Western Cape runner that Mandela's vision for South Africa could be achieved.
"Coming back to South Africa, I was blown away by the reception from South Africans across the board," she added.
"'Soweto loves Elana'... I mean it was still two years before we got a democratic government. It was an incredible and unexpected period for me. It gave me hope that we did have great potential as the rainbow nation."
You can download the Sportshour podcast or listen again to the latest episode.