London 2012: Did Olympic Games fail to inspire the next generation?

By David Bond
BBC sports editor
Last updated on .From the section Olympics185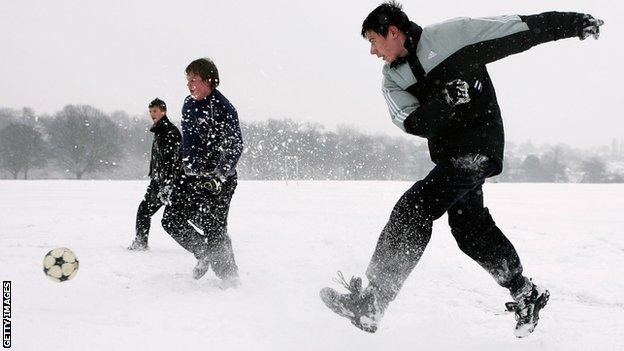 The latest figures from Sport England's Active People survey do show some positive developments.
Overall, the number of people playing sport once a week for half an hour have been restored to the levels seen immediately after last year's Olympics, following a fall six months ago which was blamed on bad weather.
Participation among some social groups, such as black and ethnic minorities, those with disabilities and the less financially well off, is increasing.
And if you take the slightly longer view - not necessarily all the way back to when the Games were won in 2005 but maybe to October 2011 - then there has clearly been a reasonable jump in participation connected to London 2012.
But what cannot be avoided by policy makers is this simple statistic:
Almost 18 months on from the London Olympics and the number of people playing sport once a week has increased by only 200,000.
This is a disappointingly small return for the billions of pounds of investment pumped into the staging of the Games and the funding of grassroots legacy schemes thereafter.
That failure to really move the needle in the months since the Olympics will worry ministers and sports administrators, who know the glow of that unforgettable summer is already fading.
What will really trouble them is the continuing slump in the number of young people - aged 16-25 - playing sport. The latest figures show another decline - of 51,000, down to 3.74m - and it is clear that policy makers now need to take a much more interventionist approach to try to reverse what is looking like a long-term trend.
One of the big factors in that fall among the young has been football's alarming decline in popularity. Remarkably the national game is now only the fourth biggest participation sport behind swimming, athletics and cycling.
What this tells you (again) is that there is no direct link between the profile and popularity of a sport at the elite level and participation at the grassroots.
This point is most neatly made by tennis which again saw a decline in the 12 months from October 2012. Having already had some of its Sport England funding withheld in April following woeful results, it now faces further cuts after another drop of 39,000.
And this in the year Andy Murray became the first British man in 77 years to win the Wimbledon singles title.
But cycling, the poster boy of British sport, has managed to turn elite success and high profile into grassroots success. Its figures are up again in the last year and it is now the third most popular sport in the country. Why do some sports seem to be able to leverage success and big name stars into bigger participation numbers, while others can't?
Jennie Price, chief executive of Sport England, does not have all the answers but she says, "having a Wimbledon champion of itself is not enough. You have to have the programmes in place to capitalise on that success."
While Price is far from downbeat with the overall picture, she admits she will be disappointed if she does not now see a significant increase every six months.
This is ambitious but at least there now seems to be a shift in the rhetoric from those in charge.
Both Sport England and the new Sports Minister Helen Grant are talking much tougher with the sports bodies who are being paid half of the Government's £1bn participation legacy funding between now and 2017.
We should note Grant's threat on Thursday to take away funding from the sports if they don't "step up".
From January all sports will be subject to a more rigorous assessment system. Sport England says if governing bodies continue to fail then they will strip them of up to 20% of their funding and start spending it on their behalf.
As we get further away from the golden summer of 2012 then delivering legacy becomes less about the inspirational moments of the Games and more about the structures and funding put in place in the months immediately after the flame was extinguished.
The next year or two will be crucial in assessing whether David Cameron's coalition got it right or whether a huge opportunity has been squandered.