Olympics: India agree to board changes after threat to participation
Last updated on .From the section Olympics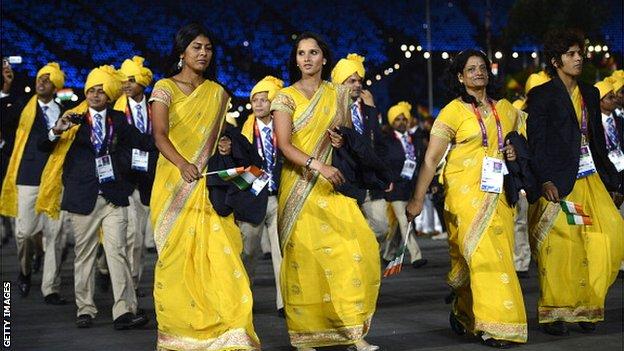 The Indian Olympic Association has amended its constitution after a threat to its participation in the Olympics.
The International Olympic Committee (IOC) suspended India last year because of alleged government interference in the IOA's election process.
The IOC also insisted India had to maintain ethics rules and bar officials charged with a criminal offence.
They were given a deadline of Tuesday but have agreed to make the changes, with new elections planned in February.
"We've amended the constitution. Once the amendment is accepted [by the IOC], they'd revoke the suspension so that we can conduct a fresh election," senior IOA official S. Reghunathan, who chaired Sunday's meeting, told reporters.
Lalit Bhanot and Abhay Singh Chautala, elected as secretary general and president respectively in last year's controversial election, will leave their posts.
"We are stepping down in the interest of the Indian athletes, and also under pressure from the IOC," Chautala said.
IOC president Thomas Bach said on Saturday that India would face expulsion from the Olympic movement unless they complied.
"The [Olympic] charter is clear," Bach told Associated Press. "If the suspension leads to no solution, then further steps could be withdrawal of recognition."
No country has been banned from the Olympics since South Africa were expelled between 1968 and 1988 during the apartheid era.
"We need to be strict and to make sure the rules of good governance are being applied," Bach added.
India won two silver and four bronze medals at the London Olympics last year.