Rio 2016 Olympics chief Carlos Nuzman says 'every day a final'

By Richard Conway
BBC Radio 5 live sports news correspondent
Last updated on .From the section Olympics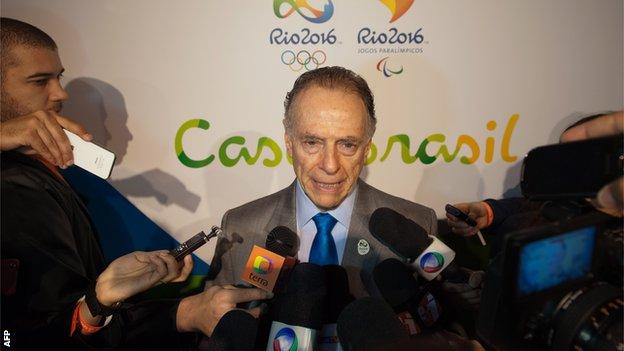 The head of the Rio de Janeiro Olympics believes "every day is a final" for Brazil's government and Games organisers following extensive delays to key building and infrastructure projects.
"We need to have the adrenalin of the athletes to work as in a final," he told BBC Sport.
"To organise, in seven years, you cannot have everything ready, as a lot of people want in advance.
"I'm comfortable and confident that we will deliver all the constructions and venues and everything on time."
Nuzman, in Athens to deliver a progress report to the International Paralympic Committee, also responded to comments from International Olympic Committee (IOC) vice-president John Coates that Rio needed a "concerted effort" to deliver a successful Olympics.
Coates is reported as saying Rio's efforts to be ready to host the Games are "more of a crisis than Athens" - a reference to the 2004 Olympics, when Greek organisers struggled to deliver venues and infrastructure on time.
"I think it's different from one city to another city," said Nuzman. "We are confident, together with the governments that are responsible for the construction and infrastructure, that they will deliver on time."
Delivering those projects is just one part of Rio's problem.
The World Anti-Doping Authority (Wada) revoked the accreditation of Rio's anti-doping testing laboratory in September following what it called "repeated failures" at the facility.
Fifa, football's world governing body, has already said it will have to analyse blood and urine samples taken from players at next summer's Brazil World Cup at a lab in Lausanne, Switzerland.
Nuzman admits Rio's new £4.5m laboratory, which is being built and will be required to handle approximately 6,000 samples during the Olympic and Paralympics, will not be ready for another two years despite a "fast track" procedure being put in place.
"The Brazilian government is working together with Wada and has a fast track to approve this construction," he said. "We are confident it will be on time for the Olympic and Paralympic Games."
With fewer than 1,000 days until the start of the Rio Olympics, questions have also been raised over safety and potential disruption following a summer of unrest, some of it violent, on Brazil's streets.
Protestors are calling for social and political change in Brazil, with some questioning the money that has been spent on securing the two biggest global sports events within two years of each other - the World Cup and the Olympics.
Now 71, Nuzman represented Brazil at volleyball at the 1964 Tokyo Olympics before going on to lead the sport's national governing body for 20 years.
Elected to the IOC in 1995, he is now intent on delivering a memorable Olympics for Rio, having been in charge of the city's successful bid campaign.
He is convinced Brazilians are happy to stage the Games and believes there will be no further disruption to the tight schedule Rio is now operating under because of future unrest.
"This will not impact the preparations for the Games," Nuzman explained. "We are absolutely confident in this.
"The reaction of the public and the research that we have is everyone is in favour of the Olympic and Paralympic Games."
He is reluctant to put a figure on what the budget for the Games is now, but believes the Brazilian people will get value for money.
"We are finalising the budget," he said. "One thing that Rio will leave as a legacy is that we'll organise a very well done Games in very good financial conditions, less than all the former organisers."