Athlete grant programme to lose funding from September 2014

By Matt Slater
BBC sports news reporter
Last updated on .From the section Olympics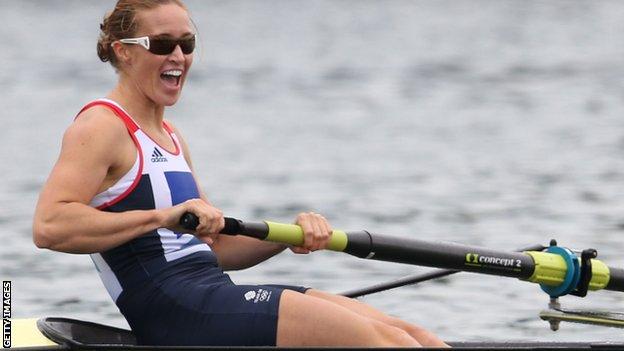 A successful programme that supports talented British athletes in further or higher education has lost its funding beyond September 2014.
Team GB's medallists at London 2012 included 44 Tass funding beneficiaries.
Para-equestrian's Natasha Baker, rower Helen Glover and long jumper Greg Rutherford all received Tass grants.
A Tass award can be worth up to £3,500.
The vast majority of the scheme's £2.5m annual budget currently comes from UK Sport, the agency that distributes lottery funding to elite athletes, but it has decided to withdraw its money.
Glover, who teamed up with Heather Stanning to win Team GB's first gold medal in London, received a Tass award shortly after she joined British Rowing's development squad.
Juggling that with a teacher-training course, Glover used her grant to put petrol in her car so she could get to training and to pay for physiotherapy sessions.
"It wasn't a lot of money but it gave me the feeling there was a support system for me," said Glover. "Schemes like this are invaluable."
A UK Sport spokesman told the BBC that the organisation was "fully committed to identifying and nurturing talented athletes".
However, he added UK Sport had chosen to focus its resources on those with genuine potential to win a medal in the next eight years and was now channelling money more directly through the national governing bodies of the 44 sports it funds.
He also pointed out that the sports councils of the four home nations, as well as colleges and universities, were investing large sums in making sure there was a seamless link between elite and grassroots sport.
Guy Taylor, national director for Tass, said his organisation has dramatically reduced the number of talented 16 to 22-year-olds giving up sport because of worries about how they might fund their training.
"We're a bridge between the levels," he said. "You don't just suddenly go from being a county-standard player to being on world-class podium funding from UK Sport."
Tass is managed for UK Sport by SportsAid, the charity that helps aspiring stars in their first steps to becoming champions, and its chief executive Tim Lawler said the uncertainty surrounding the scheme's future was "clearly a challenge".
"To think there's a possibility of this experience being lost is a concern," said Lawler. "If Tass didn't exist, you'd create it."