Olympic Games: The seven sports bidding for a 2020 place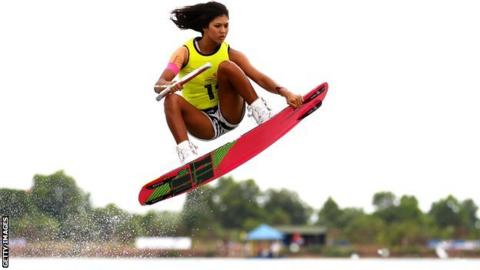 Seven sporting federations recently travelled to International Olympic Committee headquarters in Lausanne to pitch for a place at the 2020 Games.
Some are seeking re-admission to the Olympic programme, while others are asking for a seat at the top table for the very first time.
The IOC will make its final decision in September, when it will also confirm whether Istanbul, Madrid or Tokyo will host the 2020 Games.
Here, BBC Sport takes a look at the seven disciplines seeking an invite to the biggest sporting party on the planet:
Baseball/softball
What is it? Softball had a presence at the Olympic Games, solely for women, between 1996 and 2008. It was then dropped from the programme for 2012, as was men's baseball, which had appeared sporadically at the Olympics since 1904.
Now a joint bid for 2020 is under way. Arena Softball, an indoor version of the sport, is the suggested discipline. The proposal calls for softball to be played at a single venue over seven to 10 days. Each tournament would feature eight teams.
Who are the stars? A factor which undermined baseball when it had a presence as an Olympic sport was the absence of professionals. The lack of Major League players at the Olympics is an issue that remains crucial to any chance of reinstatement.
Major League Baseball has been unwilling to shut down the season during the Olympics, something the federation is seeking to resolve.
Which countries are the strongest? In Beijing 2008, Japan's women took gold in the softball, with silver to the United States and Australia claiming bronze. Baseball's gold medallists four years ago were South Korea, with Cuba and the USA second and third.
Why should it feature in 2020? "Softball brings so much to the Olympic Movement," said Don Porter, president of the International Softball Federation. "It should go without saying that a sport clear of doping problems is a must."
Karate
What is it? Karate is a martial art with its roots set firmly in Japan. In competition, two karatekas can use any variety of allowed scoring techniques. Punches, kicks, take-downs and sweeps can all be used to score with the target areas being any part of the body above the belt, apart from the throat.
Competition is performed on a matted area, or Tatami. The bout runs for a fixed time of two to four minutes. The clock stops for judgments and points awards.
Points are awarded based on the criteria for good form, sporting attitude, vigorous application, awareness, good timing and correct distance.
Who are the stars? Some of the top athletes within the British Karate Federation include Alton Brown, Callum Rob, Amy Connell and Jonathon Mottram. Masoud Parviz of Iran, Nadege Ait Ibrahim and Tiffany Fanjat of France, Germany's Jonathan Horne and Azerbaijan's Rafael Aghayev are some of the world's current top-ranked competitors.
Which countries are strongest? The countries that have recently emerged as strong contenders are France, Italy, Turkey and Germany. All of the UK nations currently compete individually. If the World Karate Federation bid is successful then a Team GB would be formed.
Why should it feature in 2020? "Karate is one of the most popular and most spectacular combat sports," Mark Symonds, secretary of the British Karate Federation, told BBC Sport.
Roller sports
What is it? The sport of inline speed skating is run globally by the international governing body, the Federation International de Roller Sports (FIRS), which holds World Championships - senior and junior - every year on both road and track circuits.
In essence its races appear similar to those of cycling. Competition distances range from a 200m individual sprint time trial up to a mass-participation full marathon.
The 2020 Olympic bid includes no marathon - distances are 300m, 500m, 1km, 10km and 15km.
Who are the stars? In recent years the most consistent individuals have been the likes of Pedro Causil of Colombia, Bart Swings of Belgium, Hyo Sook Woo of South Korea and Colombia's Kelly Martinez. Between them they have amassed more than 30 world titles.
Of this elite group, only Swings is likely to be in the hunt for medals in 2020. There are, however, a vast array of talented juniors from all over the world, including Italy's Giulia Lollobrigida and Juan Perez of Colombia.
Which countries are the strongest? The strongest all-round nations at present are Colombia, Chinese Taipei, South Korea, France, Italy and Belgium.
Why should it feature in 2020? "Inline speed skating is a 21st century sport that can bring a new dimension to the Olympic movement," Anne-Marie Waugh, CEO of the British Roller Sports Federation, told BBC Sport. "It is fast, exciting, thrilling and above all unpredictable."
Sport climbing
What is it? This is more usually called "lead climbing" and is the category up for inclusion in the Olympics.
Anchors are permanently fixed to indoor walls to allow climbs of great difficulty to be done without competitors being distracted by the danger of falling. Climbers attempt to get as high as possible on a route of very high technical difficulty.
Who are the stars? At the Climbing World Championships in Paris in September, Austrian Jakob Schubert emerged as the world's best lead climber. Second and third were Sean McColl of Canada and Adam Ondra of Czech Republic respectively.
Among the women, Angela Eitherand and Johanna Ernst of Austria and South Korea's Jain Kim dominate. British climber Molly Thompson-Smith is a medal hope should the sport be included in 2020.
Which countries are the strongest? A wide range of nations could win gold in 2020. The Alpine countries are strong, but so is the rest of Europe, Japan and South Korea.
Why should it feature in 2020? "Climbing has all the excitement and adrenaline of the extreme sport that it is," Rob Adie of the British Mountaineering Council told BBC Sport. "Climbers make big dynamic movements in large overhangs hanging by their fingertips and can take big crowd-wowing falls. It also includes the grace and poise of gymnastics and the tension and endurance of strength sports, making it a fantastic spectacle to watch."
Squash
What is it? Squash is a high-speed racquet sport played by two players (or in doubles four players on court at a time) in a four-walled court with a small, hollow rubber ball. Each wall has an in-line, below which the ball must be hit.
Players exchange shots hitting the ball against the front wall, and a point is won when a player cannot successfully return the ball. Games are played to 11 but players must win by two clear points.
Who are the stars? Egypt's Ramy Ashour is the current world champion and world number one.
The English pair of James Willstrop and Nick Matthew are also highly ranked, as it Gregory Gaultier of France.
On the women's tour Nicol David of Malaysia leads the way with Raneem El Weleily (Egypt) and Laura Massaro (England) also highly placed.
Which countries are the strongest? Squash is a Commonwealth Games sport and in 2010 in Delhi, England led the way with six medals including double gold for Nick Matthew. On the world stage Egypt, have five players in the men's top 10.
Why should it feature in 2020? "Squash possesses such athleticism and it's a very global sport," said Alex Gough, chief executive of the Professional Squash Association. "We have had world championships in all five continents, we've had men and women winners from all corners of the globe. It's a universal sport for both men and women."
Wakeboarding
What is it? Cable wakeboarding is the proposal that the IOC will have to consider - it differs from the more traditional version of the sport where participants are towed by a boat and use the wake created to jump, flip and spin in the air.
An Olympic competition will use overhead cable machines to tow up to nine riders at once. With no wake created, competitors flex the cable in order to spring out of the water.
Each rider must show all possible variations of tricks and each run is judged subjectively against others, with two runs per heat. No falls are allowed.
Who are the stars? Current superstars of the sport include Britain's Kirsteen Mitchell, Sophia Marie Reimers of Germany and South Korea's Im San. Britain's Nick Davies could also be a medal hope in 2020.
Which countries are the strongest? Germany, USA, Australia and Great Britain lead the field, with China, Philippines, Singapore, Egypt, Russia and the Middle East all expanding their operations.
Why should it feature in 2020? "The IOC is committed to supporting youth-centred events to ensure their fan base thrives in the future," said Des Burke-Kennedy of the International Waterski and Wakeboard Federation. "Cable Wakeboard is a youth-focused lifestyle discipline from the booming board sports category."
Wushu
What is it? Wushu is better known in the west as Kung Fu. There are two major disciplines for competition: Taolu (forms) and Sanda (full contact fighting). Only Taolu, which also involves the symbolic use of weaponry, is being put forward for 2020 entry.
The weapons consist of long spears and cudgels, short straight swords and broad swords. The points system is similar to ice skating - each athlete starts with 10 points and as mistakes are made through the routine scores are deducted.
Who are the stars? World champions hail from Asia, Europe and the Americas, with India and some African nations improving, while the UK also has high-ranking athletes.
Some of those who have enjoyed successful athletic careers in wushu have become superstars in other spheres, including actor Jet Li of Romeo Must Die and Lethal Weapon 4 fame.
Which countries are the strongest? The strongest nations train their wushu athletes professionally. These include China, Russia, Italy, France and Malaysia, and many other Asian countries.
Why should it feature in 2020? "Nothing like this, of a martial art form within the Olympic Games, has the speed, power, flexible ability and difficult moves that are exciting and exhilarating to watch," Peter Warr, International Wushu Federation vice-chairman, told BBC Sport. "Wushu will bring 5,000 years of culture, history and philosophy to the Olympic family."