'GB will not suffer Olympics and Paralympics hangover'

Last updated on .From the section Olympics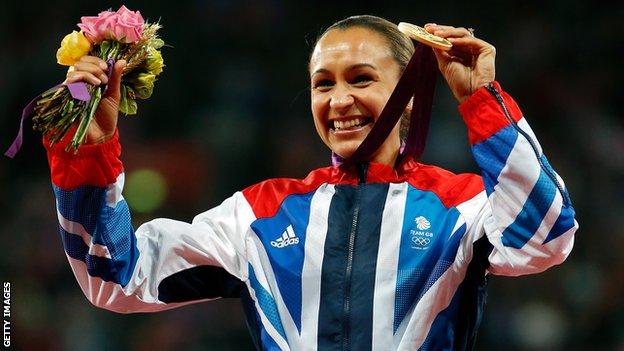 British Olympic and Paralympic sport will not suffer from the type of Games hangover which has affected previous hosts, it has been claimed.
History suggests most countries gain a big boost when championships are on home soil, but struggle to match those achievements in subsequent Games.
But Ken van Someren, the English Institute of Sport's director of sport science, said fears of a decline "have been allayed thanks to the government's decision to maintain current funding levels to [the Rio Games in 2016]".
Of recent hosts, only the powerhouses of China and the US have been able to buck the trend, while Australia, Greece and Spain have seen their performances fall away.
"There were concerns that Britain could lose a lot of the talent we've built up in the last decade," Van Someren told BBC Sport.
Hosts do well in major multi-sport events for a number of reasons. While the psychological comforts of home are a factor, as is the support of the crowd, ultimately the increased public funding of sport is perhaps key.
Historically, this financial backing has typically dwindled once Games have moved on, so many people involved in British sport expected the same thing to happen here.
But those fears diminished when Prime Minister David Cameron announced that UK Sport, the agency that distributes money to Olympic and Paralympic athletes, will continue to receive £125m a year in lottery and Treasury money.
Team GB have seen a few high-profile foreign coaches leave - athletics boss Charles van Commenee being the most prominent, with British Swimming's head coach Dennis Pursley another to go - but the GB men's volleyball coach, Harry Brokking, is the only one to leave for financial reasons.
Lottery funding is the biggest single reason why Team GB have risen from 36th in the medal table in 1996 to third in 2012. The creation of the English Institute of Sport, to give just one example, would have been impossible without it.
Now 10 years old, the institute is a nationwide network of 250 of the best coaches, nutritionists, physiotherapists, psychologists and all the other experts an elite athlete could wish for. It is now the subject of jealous glances from around the world.
The Australians, in particular, have blamed their slide down the table in the last two Games on a steady outflow of talent to rivals.
China's emergence as a swimming power was aided by Australian coaching expertise in the shape of Denis Cotterell and Ken Wood, Australian triathlete Erin Densham was beaten into third place by two competitors trained by her compatriots, while Team GB was boosted by the contributions of sports scientist Tim Kerrison, cycling coach Shane Sutton and rowing guru Paul Thompson.
With Australia slumping to 10th in the table, the Australian Olympic Committee's Kitty Chiller said the team was a victim of its own success.
"People have looked at what we did before Sydney in 2000 and they have learned from that," Chiller said.
"Maybe we have just stagnated a little bit. We need to jump ahead again."
What Chiller did not say, however, is that Australia has also benefited from the global marketplace for coaching talent. The head coach of its best-performing sport, sailing, is Ukrainian, while the diving coach is Chinese.
That said, the EIS itself is a perfect example of British sport's debt to down under, as it was based on the Australian Institute of Sport.
"We followed their model to get ourselves off the ground, but quickly made changes so it would work for us," said Van Someren.
"We have since borrowed bits from all over the world and from industry, academia, science and so on.
"But the key has been having the resources to do the job properly. We work with world-class athletes so our coaches and doctors should be of that calibre, too.
"We've got more than 60 physios and 55 strength and conditioning coaches, but if we have needed to bring in a lower-back specialist from Russia because he is the best in the world, we have."
Van Someren actually believes the best is yet to come for British Olympic and Paralympic sport, with planning for Rio already well advanced.
"We are a young organisation, we are still learning," he said.
"Of course, if the Brazilians or whoever wants to double somebody's salary, then that might be a temptation, but we're confident our system can't be beaten and it's still improving."