Paralympics 2012: Elkin Serna ready for marathon effort
By Rosario Gabino
BBC Mundo
Last updated on .From the section Disability Sport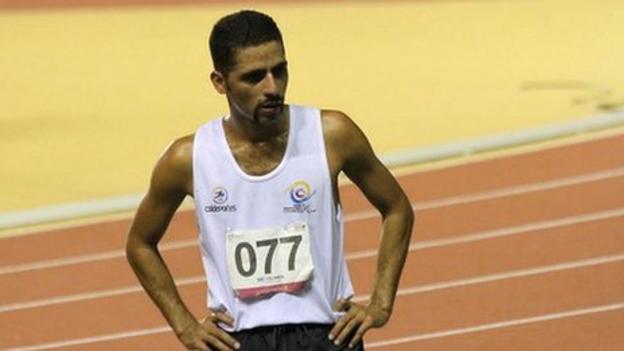 "To get where I am now I've had to do quite a lot of running," says Elkin Serna, a 27-year-old athlete who runs the marathon on Sunday, the last day of the London 2012 Paralympic Games.
One morning in 1997, when he was 10, he and his family had to drop everything and run out of his modest home in a rural area of Antioquia, Colombia. They had been threatened by guerrillas and had to run to the nearby city of Medellin.
Since then, Serna has not stopped running.
He used to run several miles every day to go to school - "like the Africans," he says.
His love of running has never diminished despite his visual impairment. He has been affected by macular degeneration since he was five, meaning his vision has gradually deteriorated to the point that today his sight is about 10% of normal vision.
"For example I have you a metre away and I can see your eyebrows, a bit of your nose and I can hardly see your mouth," he explains.
Love of the sport aside, Serna has been running to support his family and receives state support and sponsorship for his efforts.
He has had significant success already, winning a silver medal at the 2008 Beijing Paralympics and being appointed a goodwill ambassador for the UNHCR, the UN agency for refugees, which asked him to help raise awareness and support for the victims of displacement.
But the journey to London has not been an easy one.
While his condition can be cured if detected early, rural Antioquia was simply too remote for such medical expertise.
When his family moved to Medellin, Serna began to support his mother and brother working in Guarne, on the city's outskirts.
There he met the country's elite athletes, who recognised his potential and supported him.
Serna lived on a nearby farm where he was allowed to stay in return for helping with household duties.
Unaware of Paralympic sports, he began running with sighted athletes, many of whom he beat in spite of his limited vision. And it was there he met his first coach, Juan Guillermo Jaramillo.
Eventually he was introduced to Paralympic sport. He went to the 2007 Parapan American Games in Brazil, where he qualified for the Beijing Paralympics, returning with both a medal and wide recognition in his home country.
An extrovert, Serna promotes himself, pitches to sponsors and is not easily embarrassed. And he plays down his disability to the extent that Sunday will be the first time he has competed with a sighted guide, which is customary in his Paralympic category.
"I am full of energy," he says. "I have never felt any complex, neither have I been discriminated against. I work out the difficulties easily."