Egyptian pair disqualified after late arrival at ExCel
Last updated on .From the section Olympics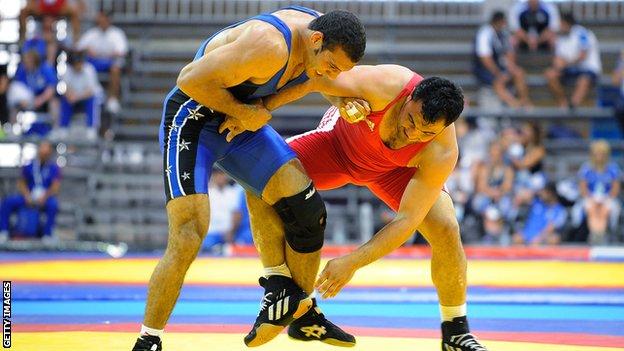 Two Egyptian wrestlers were disqualified from the Olympics after arriving late for qualifying on Sunday.
Abdou Omar Abdou Ahmed and Saleh Emara were due to take part in the 66kg and 96kg freestyle at the ExCeL.
Qualifying has started at 13:00 BST all week but Sunday's competition was moved to 08:30 BST to accommodate the closing ceremony and they were 30 minutes late.
"We know it is our mistake. We are investigating the matter now," an Egypt team spokesman said.
"It was in the booklet that the team were given but they didn't see it and they were a little bit late.
"We are calling the administrator to see who is responsible. They should have known."
The team and Egyptian officials were seen desperately trying to persuade a bus driver at the Olympic Village to take them to the ExCeL.
Once they arrived at the wrestling hall just after 09:00 they were not allowed to compete despite pleading with officials.