Usain Bolt & David Rudisha: Olympic stars united in greatness

By Tom Fordyce
Chief sports writer at the Olympic Stadium
Last updated on .From the section Olympics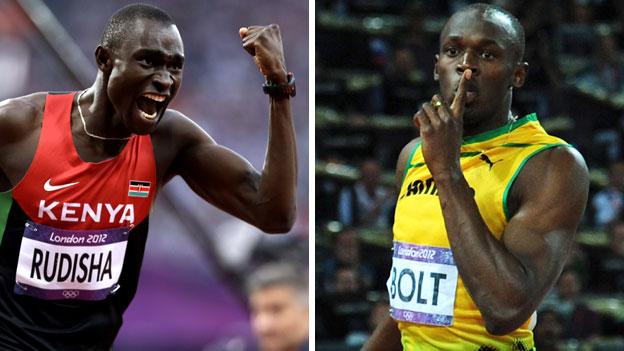 One night, two very contrasting athletes, two very similar coronations.
Few parallels should be drawn between Usain Bolt and David Rudisha. Their homes are thousands of miles apart. They run different distances. They live entirely dissimilar lives.
But in the Olympic Stadium on a warm summer's evening in London, they were united - as history-makers, as record-breakers, as the two great global stars of their sport.
With 200m gold, Bolt confirmed himself as the supreme sprinter of all time. With a blistering world record in the greatest 800m ever run, Rudisha showed the wider world what athletics fans have been trying to tell them for the past two years: this man is extraordinary.
Five years ago, the Kenyan was a decidedly average decathlete, no-heighting in the pole vault at the district championships near his home in Iten.
Now, with Olympic gold to go with his world title and an even more startling world record to blow apart his old mark, he is master of a single and special trade.
Not for Rudisha the chicken nuggets and pre-race clowning that Bolt has delighted in since those epoch-changing nights in Beijing's Bird's Nest four years ago.
His race-day meal is rice and chicken, fruit and yoghurt. Where Bolt would later flirt with a kit-girl as he stripped off and wave regally on his blocks like a Roman emperor, Rudisha stayed straight-faced and fancy-free.
Bolt, as ever, celebrated his fifth Olympic gold like a glorious loon - crossing the line with an admonishing finger to his lips, throwing himself down into 10 press-ups, seizing a photographer's camera to snap back at the flashes fired at him from all around.
Rudisha raised one modest arm then the other, perhaps aware of what wild celebrations he had triggered back home.
When he broke his last world record two summers ago, his Masai tribe paid tribute by slaughtering 50 cows. Friday morning, you feared, would not be a happy dawn for bovines in the Rift Valley.
Different men, different displays. Yet in their own history-making ways these two men share more than just a special hour in London's Olympic Stadium.
Amid an atmosphere of ferment and fervour, Bolt and Rudisha delivered where others have failed.
World 800m record-holders have struggled to live up to their storied reputations at Olympic Games. Seb Coe missed out on gold in both 1980 and 1984. Wilson Kipketer did the same two decades later.
Neither has any man in history managed to retain an Olympic 200m title. Coe, Kipketer, Carl Lewis, Tommie Smith. It's not a bad quartet to top.
With their distinctive and devastating running styles, each man appears so impeccably designed for their chosen distance that their rivals have little choice but to scrap for silver.
Rudisha, unchanging and unflagging from gun to tape, has the ground-eating stride of some relentless robot. Bolt, long-limbed yet explosive as a firecracker, slingshots round a top bend in a golden blur.
The results are unparalleled.
Rudisha's one minute 40.91 seconds set a new benchmark in an event where only three other men in 36 years have set world records: Alberto Juantorena, Coe and Kipketer.
So fast was he that behind him all manner of other marks went up in smoke. There were personal bests for six of the remaining seven, five went under 1:43, while every single man ran the fastest ever time for their placing in history.
Silver medallist Nijel Amos of Botswana, just 18, equalled Coe's legendary former world record with 1:41.73 but was almost an afterthought.
Way down in eighth place, British runner Andrew Osagie's 1:43.77 was enough to put him fourth in the all-time UK rankings behind Coe, Steve Cram and Peter Elliott. In each of the past three Olympic finals, his time would have won him gold.
It went on and on. In fourth and fifth, Duane Solomon and Nick Symmonds became the second and third fastest Americans ever over 800m.
The splits triggered amazement: 23.4 secs for the first 200m, 25.88 secs for the second, a critical 25.02 for the third and 26.61 to bring it all home.
The statisticians and diehards cooed. The 80,000 believers who came to pay homage to Usain received their own blessing, too.
Bolt's 19.32 not only matched Michael Johnson's gold-medal winning world record from the Atlanta Olympics of 1996 but was the fourth fastest ever run.
Had it not been for his back tightening up midway through, his own world record of 19.19 secs may have gone. As it is, Bolt now has four of the fastest six times ever in his favourite event of all.
The on-looking Johnson was unequivocal in his praise.
"In my opinion, we have seen the two best athletes in the sport tonight," he said afterwards. "They are complete opposites, but both great athletes and great ambassadors for the sport."
Rudisha, too, paid tribute to a fellow sporting superstar.
"I knew I would be running with so many people watching all over the world because of him," he said, gold medal heavy around his neck.
"People love Bolt. He has many fans out there because of his great achievements and breaking world records in Olympics. I've done the same and it's a great honour. I'm happy and I'm happy for him."
Then, around the same time that Bolt was ducking his head to receive his fifth gold and become the most decorated Jamaican Olympian of all time, Rudisha threw in the sort of casual teaser that could have promoters and television executives throwing suitcases of cash in every direction.
"His speciality is 100m and 200m, I am good at 800m. Maybe one time we can meet at 400 and compete for fun. That would be great."