Phillips Idowu arrives for Olympics 2012 triple jump
Last updated on .From the section Olympics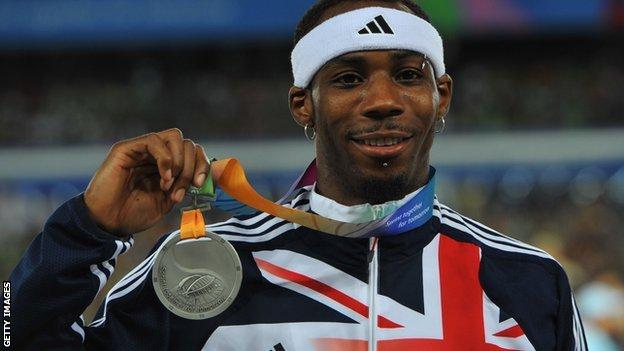 Phillips Idowu has arrived in the athletes village for his Olympic triple jump qualification on Tuesday.
Idowu chose to miss a pre-Olympics athletics squad camp in Portugal to remain in London for treatment for a leg injury, which threatened his participation.
But the Beijing silver medallist has now joined up with the GB squad.
A British Olympic Association spokeswoman told BBC Sport: "He's set to compete. All is good."
Idowu's pre-Games whereabouts had been a concern, with athletics chief Charles van Commenee, who has a hostile relationship with the 33-year-old, saying the athlete's chances of winning a medal had been compromised by "going missing".
But Idowu dismissed the worries saying in a statement on Twitter.
"I'm in London where I have been for the last few weeks, finalising my prep and receiving therapy," he wrote. "My coach knew about this and it has not been a secret."
Idowu confirmed he had only heard about the stories concerning his whereabouts on Saturday due to a self-imposed media blackout.
"I have to give notification of my whereabouts everyday for doping purposes, so it's impossible to completely disappear," he said. "The appropriate people can contact me with ease. There is no story here."
Idowu has not jumped since 1 June and pulled out of meetings in Oslo, Paris and London, as well as the Olympic trials in Birmingham.
The Londoner, whose season's best is a modest 17.31m, will need to qualify in the top 12 to make Thursday's final at 19:55 BST.
American Christian Taylor is a strong medal favourite and has registered the longest outdoor jump of the season, 17.63m.
He said Idowu's injury problems were kidology. "He's playing head games," said the world champion.
Taylor is also bidding to break Briton Jonathan Edwards' world record of 18.29m, set in Gothenburg in 1995.
The 22-year-old, who jumped 17.96m to win the World Championship title in Daegu last year said:"I grew up watching Jonathan Edwards," he said. "He's very speed orientated. I studied him and the heights he gets off the board. I'm here to surpass his mark."
But Edwards, now a BBC pundit, said: "I don't think the conditions are suited towards breaking a world record. They'll be jumping into a head wind which will make it impossible."