Dai Greene can still win 400m hurdles gold - Michael Johnson
Last updated on .From the section Olympics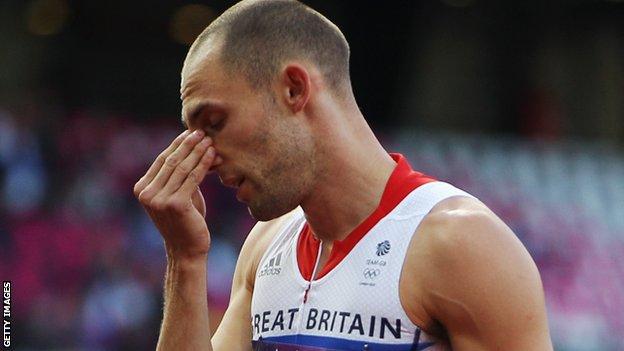 Former Olympic champion Michael Johnson believes Dai Greene will learn from his mistakes after scraping into the Olympic 400m hurdles final.
But the 26-year-old's time was quick enough to put him through as one of the two fastest outside the top two.
"Now you've got to put that behind you, make sure you don't make the same mistake, which he won't," Johnson said.
World champion Greene, among the favourites for gold, admitted to being shocked at his semi-final performance.
"I was going down the home straight and couldn't catch them," Greene told BBC Sport immediately after his race.
"I don't know what happened, I wasn't there. I'm devastated. I'm shocked and feel like I've let everyone down."
Greene then faced an anxious wait to see whether anyone outside the top two places from the other two races would beat his time of 48.19 seconds.
The Llanelli runner breathed a huge sigh of relief as his time - quicker than his gold-medal winning time at the 2011 World Championships - survived.
Felix Sanchez, the 2004 Olympic champion, was the fastest qualifier in 47.76 - the quickest time in the world this year - ahead of previous world number one Javier Culson, who clocked 47.93.
Greene will be in lane three for Monday's final. Johnson, who won four Olympic gold medals in the 200m and 400m, says the Great Britain athletics captain needs to forget about his semi-final performance.
"Dai will go back with his coach, analyse this race, try and figure out what went wrong and then try and put it behind him," Johnson added.
"[He will] feel fortunate that he's in the final and make up for it.
"I did it in the 1999 World Championships. I came into that championships not completely healthy, just trying to conserve as much as possible.
"I was the last person to get in [the final] and I won the World Championships. So it can be done."