Olympics boxing: Britain's women ready to hit out

By Ben Dirs
BBC Sport at ExCeL
Last updated on .From the section Olympics33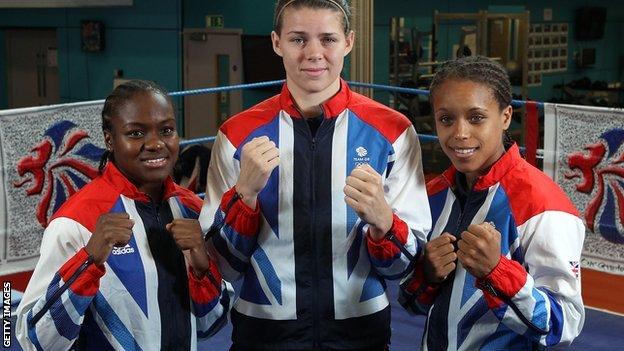 When it was announced that women's boxing had gained a place at the 2012 Olympic Games, top Cuban coach Pedro Roque was heard to opine: "Women should be showing off their beautiful faces, not getting punched in the face."
The most absurd thing is not that Roque thought women should be showing off their faces or not getting their faces punched. The most absurd thing is his suggestion that all women are defined by their beauty, which is as preposterous as suggesting that all men are defined by how hard they are.
I don't know if Nicola Adams,Natasha Jonas and Savannah Marshall consider themselves beautiful or not. But I do know they could smash my face in.
And if you accept that true equality means having the choice to put your health at risk, as well as being able to work and vote and all the so-called "good" choices in life, the notion that women should not be allowed to box becomes ridiculous. Especially when you consider a female member of the royal family was pointing a horse over 6ft fences last week.
Which is why, whether they see themselves as such or not, Great Britain's triumvirate of Adams, Jonas and Marshall are feminist pioneers.
"I haven't really thought about being a pioneer that much," says flyweight Adams, who kicks off her Olympics campaign at the ExCeL on Monday, against either Bulgaria's Stoyka Petrova or Siona Fernandes of New Zealand.
"It's just a sport I love doing and it's nice to get the recognition for all the years I've been training. I used to look up to Muhammad Ali. One day kids might look up to me, and what a great feeling that would be."
GB performance director Rob McCracken says he was converted to women's boxing as a kid, when he was training in a gym in the United States and "watched in amazement" as a female fighter bested two male sparring partners.
"It's a non-issue to me, it's almost like saying women shouldn't be running," said McCracken. "At the English Institute of Sport in Sheffield, they're not treated as females, they're treated as boxers, the same as the men.
"All three of our girls spar with the male podium squad boxers, Nicola Adams has been going at it with [light-flyweight] Jack Bateson all week, and he's not been holding back. These are tough, smart girls who can box."
When McCracken said that, from 100 yards away at least, fights in the latter stages of the Women's World Championships this year looked like they were taking place between men, he meant it as a compliment.
Just don't tell Wu-Ching Kuo, president of the International Amateur Boxing Association, who has suggested women boxers should wear skirts so that fans and officials can tell the difference. Which is like suggesting women racing drivers should have pink, fluffy dice hanging from their mirrors.
Adams and middleweight world champion Marshall have been handed byes into the second round which means the honour of being the first British female boxer to compete at an Olympics will fall to Liverpool lightweight Jonas, who fights American Quanitta 'Queen' Underwood on Sunday.
If Jonas, who won bronze at this year's World Championships, beats Underwood, she will most likely face Katie Taylor, the Irishwoman who is her country's biggest hope for a gold medal, in the second round.
Taylor is nothing short of a phenomenon, with four world and five European gold medals to her name. She has also beaten Jonas, 28, on three occasions.
Hartlepool's Marshall, 22, kicks off her campaign against either Marina Volnova or Elizabeth Andiego and the top seed is a shining example of how sport can turn a painfully shy teenager into a confident woman.
Three years ago I interviewed Marshall in Cardiff. I say interviewed: I asked questions, she squirmed in embarrassment, I got flustered. The media man, hovering in the wings, could barely stifle his laughter.
Last month, I watched almost open-mouthed as Marshall lined up on Sky Sports' Fight Night show, sandwiched between two male professional boxers, and chatted away with only a hint of self-consciousness. The next day the media man sent me a text: "I think she's been having us on all along!"
McCracken is one of the most understated men in boxing but when I asked him recently to describe the pride he felt at developing his charges as people, he positively glowed.
He understands that competing at sport can enhance character, add extra layers and, as schmaltzy as it sounds, improve you as a person.
With British women hoovering up medals all over east London, the 2012 Games have hopefully demonstrated to a generation of young girls from this country that sport is not stupid, not uncool and can be feminine. Now Adams, Jonas and Marshall will demonstrate that boxing can be feminine, too.
Back in 2009, when the momentous decision was made to include women's boxing, former world professional champion and Olympic silver medallist, Amir Khan, voiced his concern: "When you get hit, it's very painful. Women can get knocked out."
Sorry Amir, too easy: insert your own joke here…