Olympics swimming: Rebecca Adlington reflects on Ledecky loss

By Nick Hope
BBC Sport at the Aquatics Centre
Last updated on .From the section Olympics
Rebecca Adlington says she will consider her swimming future in the autumn after she has taken a break.
Adlington, 23, finished London 2012 with two bronze medals and lost her 800m title on Friday to 15-year-old American Katie Ledecky.
"I have not finished on what I wanted to do," she told BBC Radio 2.
"I wanted to achieve a little bit more at these Games and have not done that but, at the same time, have I got more to give? That's the question."
She told host Chris Evans: "I don't know what happened on Friday regarding my time; it was not the fastest I have swum all year, and that's a question I want to ask and understand why.
"It's not been long enough for me to reflect on yet as to why the time was not there and I need to figure out why and (see) if that's just the fact I have given it all in the past and that's as good as it's going to get."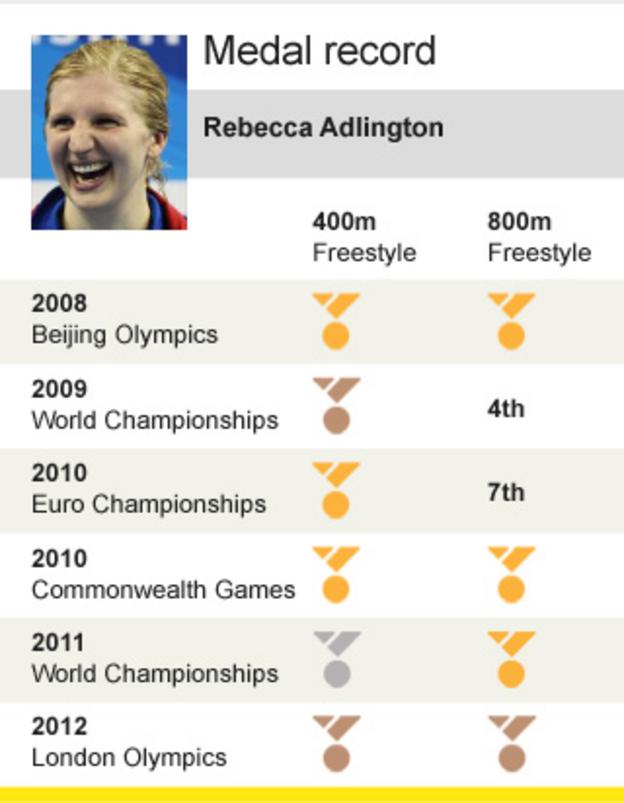 In an earlier interview, Adlington said she was planning to complete a charity bike ride in Africa in October and would put any decisions on hold until after that.
"I'm not going to think about the pool," she said.
"Once I come back I'll see what shape I am in, how I feel and whether I want to carry on or not.
"I need a good break mentally and physically. I do not know yet (about the future). I feel mixed emotions.
Adlington added: "The pressure has been difficult to deal with over the last few years and I've had to deal with it on my own.
"I can't turn to any of the other British swimmers because they don't know what I'm going through.
"It was very difficult to manage over the past four years. I thought I had managed it a lot better."
The Mansfield-based swimmer says she has received tremendous support from the British team, but has also sought advice from multiple Olympic champion Sir Chris Hoy in the build-up to her home Games.
"I love Chris and he's helped me so much, but I think that cycling is a hell of a lot different to swimming," Adlington added.
"It's a lot harder to try and win a medal - not in terms of the physical demands, because I don't think cycling is easy at all.
"They would be disappointed if they got silver, because that's like coming last, but to us - just to make the final is so difficult."
After battling her way to a third-place finish in the 400m freestyle final, Adlington qualified quickest for the final of her favoured 800m event but was beaten by the outstanding 15-year-old Ledecky.
"I'm not disappointed to get a bronze medal," said Great Britain's most successful swimmer of all time.
"I've been in four Olympic Games finals and got four medals - that's nothing to be ashamed of. I'm just disappointed more in the time."
Adlington's time of eight minutes and 20.32 seconds was slower than she swam at the British trials in March.
She admitted the packed 17,500-capacity Aquatics Centre was perhaps "a little bit overwhelming" for the British team at times, but thanked the crowd for the reception she received after stepping on to the podium.
"That was better than anything I have ever experienced in my entire life and that I will remember for the rest of my life," she said.
"I wouldn't have got that cheer for a bronze anywhere else and that's the most important thing that I've still got that cheer."