Olympics swimming: Rebecca Adlington - what lies ahead

By Nick Hope
BBC Sport at the Aquatics Centre
Last updated on .From the section Olympics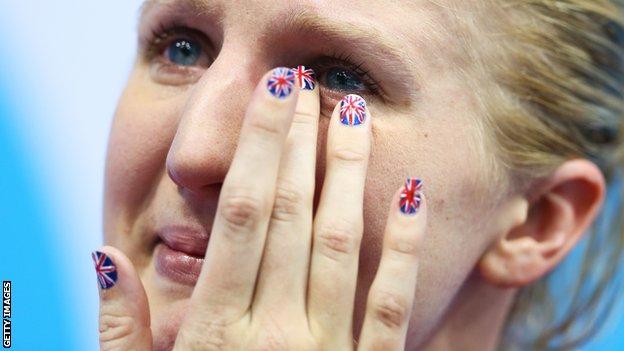 A teary Rebecca Adlington added 800m freestyle bronze to her growing collection of Olympic medals on Friday, insisting she had given her all in finishing third behind American teenage sensation Katie Ledecky.
The 23-year-old Briton, who won double gold at the 2008 Games in Beijing, now says she intends to "sit down and evaluate" her performances before deciding whether to carry on competing.
Here, BBC Sport's swimming experts Steve Parry and Sharron Davies assess Adlington's showing at London 2012.
Why wasn't it gold in the 800m?
Parry: I thought Ledecky was going to falter. She went out so hard and was under world-record pace at one stage. Becky may have seen Ledecky so far in front and thought there was nothing she could do about it unless Ledecky blew up. But it just never happened, she just kept going.
Young kids coming out of nowhere and dropping a load of time has been a theme of this Olympics.
Davies: Following Ledecky's performance in the heats, I thought it was going to be a battle between Lotte Friis and Becky Adlington. But it is all about doing your personal bests when it matters.
Becky couldn't have given any more. There has been immense pressure on her. She has had the weight of the country on her, along with Jess Ennis, Tom Daley and a few others. It is a different thing all together coming into an Olympics with everybody analysing your every movement than coming into an Olympics under the radar.
Why are the kids so good?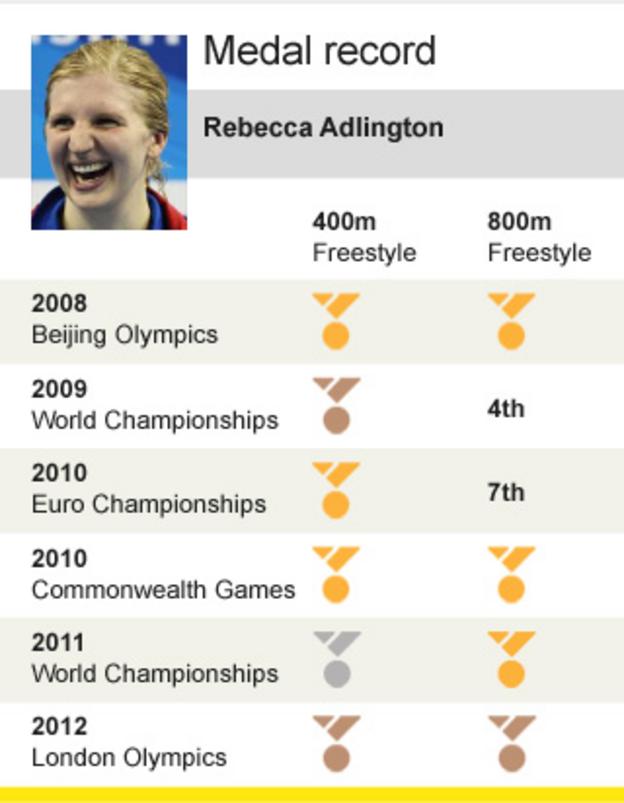 Parry: The coaching is so good and a lot more structured. Coaches have more information about their pupils, they understand what training needs to be done. As for the kids, they are working hard from a very early age.
Talent programmes are also making it easier to identify kids that have the tools to deliver. On top of that, sport is becoming more attractive to people because they see commercially how it can benefit them.
Davies: I don't know that it's that much different now. When I won my Commonwealth Games medal, I was 15. When I won my Olympic medal, I was 17. When Karen Pickering first broke on to the scene, she was only a youngster. There are a lot of us who managed it at young ages.
When you are young, you don't get fazed. When I went to my first Games at 13, I did not appreciate what it was because it just went over my head.
What now for Adlington?
Parry: She is the best British swimmer that we have ever had bar none. I know she is disappointed with two bronze medals but she went faster in the 400m freestyle than she did in Beijing, when she won gold. As for the 800m, she was beaten by a wonderkid.
What now for Becky? It's for her to decide, but I think she might find it very hard to re-focus now after winning two golds in 2008. Ledecky has put a marker down.
Davies: She will re-assess. She is going to stand back and do some charity work - a big cycle ride with Jo Jackson and a few others - so that will give her time.
Had she won another gold here, I would have said that she would probably have retired on top of the tree. Having not done what maybe she wanted to do, she may decide that she wants to carry on to the 2014 Commonwealth Games in Glasgow.