BBC Sport - Olympic archery: GB's Larry Godfrey knocked out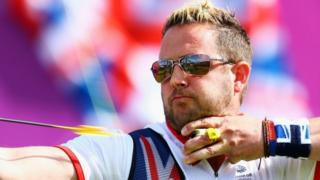 London 2012: Godfrey out after shoot-off
Larry Godfrey, Great Britain's last remaining Olympic archer, is out after being beaten by Khairul Anuar Mohamad at Lord's.
Godfrey, ranked number 10 in the world, drew 5-5 with the world number five from Malaysia before losing the one arrow, sudden death shoot-out.
Watch a full replay of the men's individual archery from Lord's.
Available to UK users only.