Giggling Craig Bellamy plays the Olympic media game

By Steffan Garrero
BBC Wales Sport
Last updated on .From the section Olympics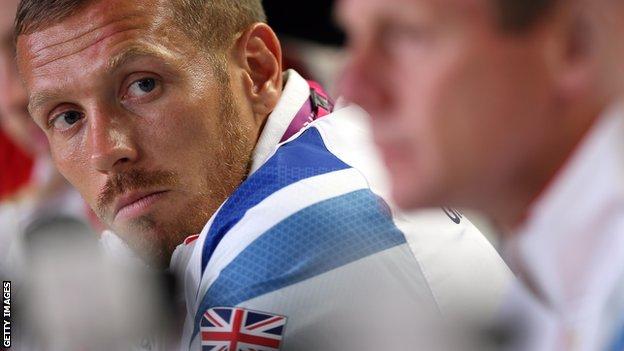 Two of the most volatile footballers of the modern era exchange an icy stare in front of the World's media in the Olympic Park.
The frostiness dissolves into smiles and giggles as Craig Bellamy plays press officer.
He moves a microphone closer towards the Great Britain manager Stuart Pearce, whose voice suddenly becomes audible around the room.
"They can hear you now," the Liverpool winger whispers…
This is the helpful face of the former Wales captain, glad-handing with the media as part of the Team GB charm-offensive.
Bellamy and the Great Britain captain Ryan Giggs move from interview to interview. All smiles and small-talk with TV crews from around the globe.
"It is all new to us." says Bellamy with wide eyes. "In the Premier League we are kept away from people."
The football team have just arrived at the Olympic Park in London and are moving into the athletes' village - if only for a night before they head out on the road to Middlesbrough, Manchester and Cardiff.
"Team GB have worked really hard to get us involved in the whole Olympic experience.
"It's not like we're just a football team and off we go. They're making us feel like part of the bigger Team GB which is great."
His stubble is bordering on a beard; the only expression of individuality on display. Every layer of clothing is Team GB issue.
From the competition tracksuit, right down to the shiny red trainers. They are part of something bigger than just football.
Pearce and his squad return to the village when they play their second group game at Wembley and have received words of wisdom from double Olympic Gold medal winner Dame Kelly Holmes and Bellamy seems genuinely inspired.
"It was a privilege to meet her. She gave us a chat about what to expect and what these Olympics are about.
"She told us 'Go and speak to other athletes, go and introduce yourself and ask who they are'."
The approach of Bellamy and co evokes memories of the US Dream Team basketball players in Barcelona.
The 1992 squad of Michael Jordan and Magic Johnson threw themselves into the Olympic ideal in the knowledge that their multi-million dollar pay-packets had the potential to alienate them from original ethos of the Games.
Any highly-privileged, big-earning group of sportsmen will encounter criticism.
In Rio de Janeiro in 2016 golfers and rugby players will come under the Olympic spotlight.
For Great Britain the presence, for the first time, of a handful of Premier League stars will bring with it greater scrutiny.
They will ultimately be judged on how they perform during the tournament.
"We really have to give this tournament a go and see where it takes us," Bellamy concurs.
"It does get knocked as a tournament, but you've got to take it seriously. Uruguay won't be knocking it; Brazil don't knock this.
"It's tournament football and there's no two ways about it."
With that there is a shake of hands and more pleasantries are exchanged as Craig Bellamy moves, uncomplaining, along to the next interview of the day.