Catriona Cuddihy Olympic relay appeal to be heard on Thursday
Last updated on .From the section Olympics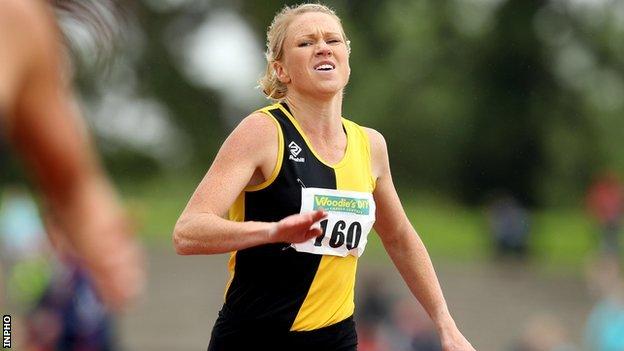 Catriona Cuddihy's appeal against the decision to replace her on the six-women Irish 4x400m Olympic relay squad will be heard on Thursday.
Cuddihy was a controversial original selection in the Irish squad but was then replaced after an appeal by Northern Ireland athlete Joanna Mills.
The Olympic Council of Ireland [OCI] has appointed a three-person tribunal to hear Cuddihy's appeal.
A final decision will be made no later than Monday 23 July.
The names of both athletes involved have been entered on the Olympic Games registration system in London.
One entry will be withdrawn following the OCI tribunal verdict.
The tribunal will be chaired by OCI executive member Susan Ahern and also includes honorary secretary Dermot Sherlock and first vice-president William O'Brien.
Athletics Ireland have been asked for full clarification of their relay selection process, and why they first named Cuddihy among the six-woman team two weeks ago, only then to replace her with Mills.
Cuddihy was named in the original selection on 2 July even though her personal best of 54.59 was .18secs slower than Mills' seasonal best at that stage.
Since then, Mills has gone on to run times of 54.17 and 54.52 at the World Junior Championships in Barcelona where she reached the semi-finals.