London 2012: Peter Wilson hopes Olympics boosts shooting's image
By Saj Chowdhury
BBC Sport
Last updated on .From the section Olympics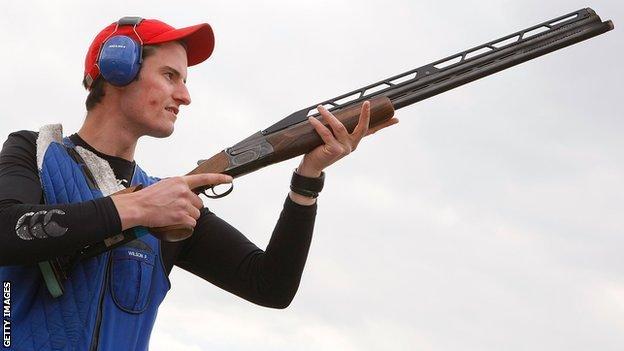 Peter Wilson is hopeful that the Olympics will help erase some of the negative connotations attached to the sport of shooting in Britain.
"I hope the main legacy is that people start to have a positive outlook on shooting," the Briton told BBC Sport.
"Woolwich is a great spot to have the event. People can get there easily and watch it in a positive environment."
Wilson concedes that shooting is perceived as a sport for the privileged, but believes anybody with a will can succeed in the sport.
"My parents have a small farm in Dorset, so I'm privileged and lucky," he continued.
"But in double trap, it's a real mixture. There's a guy [Steve Scott] from Battle Hastings who is struggling to get by - working with his dad to make money. There's another guy [Steve Walton] working in a factory in Birmingham.
"But if you really want to do something you can overcome every obstacle."
Although expectations are high, the Dorset shooter, who set a new world record at the World Cup in Tucson earlier this year, is playing down the hype. "This is only my first Olympics, so I'm taking pressure off myself," he added.
"I'm shooting very, very well and training is going to plan - but it's early in my career.
"I want to put myself in the best possible position to perform at the highest level in the competition.
"I was sent out to Beijing 2008 as part of the Ambition programme in order to take it all in. Hopefully I can cope with the added pressure."