London 2012: GB basketball women suffer defeat
Last updated on .From the section Olympics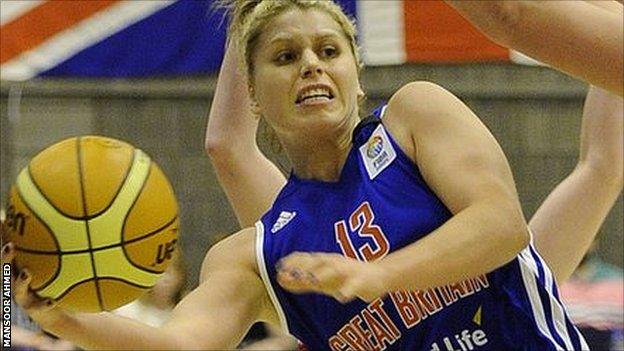 Great Britain's women suffered a 87-63 defeat to Australia in a meeting with their Olympic rivals in Sheffield.
Britain's women will face against Australia again along with Brazil, Russia, Canada and France in their group at London 2012 in two weeks.
Poor shooting cost them, mostly in the third quarter when they managed only two points in a seven-and-a-half minute period that saw the Opals power clear.
GB went into the final quarter trailing 71-54 and could not bridge the gap.
Jo Leedham led the scoring for Britain with 12 points and Azania Stewart added 10.
Australia's 6ft 8in centre Elizabeth Cambage finished with 29 points for Australia, while Belinda Snell had 16 and Jenna O'Hea 13.
"They're huge, their height is suicidal for a team like us," said Leedham, who knows several of the players from club basketball in Australia.
"They're monstrous. But for us to be able to play a team like that when we have to play them again, it's great for us to get our feet wet and great preparation."
Britain will face off against the Opals again in two weeks in their opening game in London, but coach Tom Maher - an Australian who led the Opals at the 1996 and 2000 Olympics - was keen to note how far his team have come in closing the gap on a team ranked second in the world.
"Four years ago they would have beaten us by 100," Maher said.
"I think we can take a lot of lessons from this. Australia let us have a lot of shots, but we didn't take a single thing and next time we need to make a few.
"But we've come from outside the top 100 to be 49th, and they're number two.
"There are lots of ways to win, and we've got to find a few extra."