Blanka Vlasic pulls out of London Games
Last updated on .From the section Olympics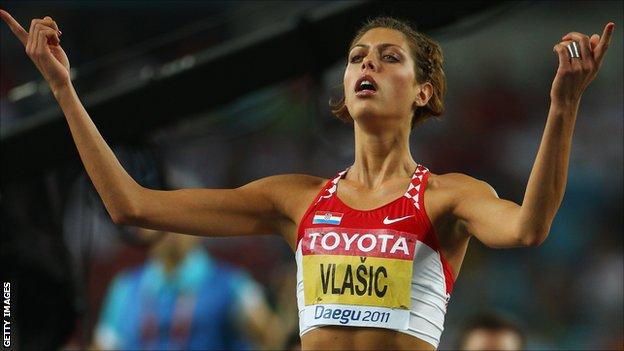 Former world champion high jumper Blanka Vlasic has pulled out of London 2012 because of injury.
The Beijing Olympics silver medallist had been struggling with a bacterial infection which had upset her preparations.
Vlasic underwent ankle and heel surgery in January before suffering from the infection.
"I will not be able to get into the top shape in time for Olympic Games," Vlasic confirmed on her own website.
The 28-year-old Croatian has the second highest jump of all time with 2.08m and was one of the favourites to claim gold in London.
However, Vlasic claims she does not want to compete in London if she is not 100% fit.
She said: "I'm not interested in jumping below my usual level, so It is the best thing to stay home and get the healing process to the end.
"I feel this is only a minor setback in my career and I'm looking forward to many more years of successful jumping. This is my chance for a new beginning."
Vlasic claimed gold at the 2007 and 2009 World Championships in Osaka and Berlin respectively - and also picked up silver at last year's event in Daegu.