London 2012: Judoka Gemma Gibbons upbeat at weight change
Last updated on .From the section Olympics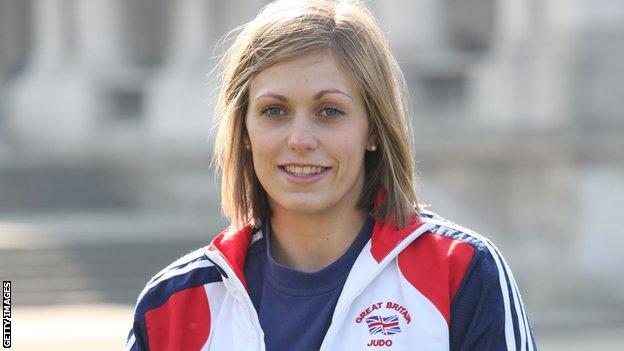 Greenwich judoka Gemma Gibbons is upbeat about her chances of success at the London Olympics despite being forced to change weight category.
The 25-year-old missed out on a place in the -70kg category and will now represent Team GB in the -78kg competition at the Games.
She told BBC London 94.9: "I fought at the British Open and ended up winning that, which got me qualified.
"If I fight the best fight I can, I could come away with a medal."
Gibbons lost out after a battle for selection in the -70kg catergory with Sally Conway, with just one place available for Great Britain.
"It's been really tough," Gibbons continued. "There were four of us at the start of the qualification period then it was whittled down to two of us.
"We were pretty close in terms of ranking points and medals.
"The selectors said that going into the European Championships [in April], whoever was highest going into the world rankings list would be selected.
"Whoever was not would be given the chance to qualify for the weight group above."
Gibbons was forced to move into the -78kg weight category after suffering a first round exit at the Euros.
"I got the number one seed and ended up losing," she said.
"I had the worst draw that I could have had but it's turned out OK because I moved up a weight category.
"I've been to a couple of World Cup events since then to get a bit of experience of fighting at the heavier weight group.
"That's gone really well because I got two medals, which is really good news.
"Now I'm looking towards getting on with the job."