London 2012: Kilty keen to show what UK Athletics are missing
Last updated on .From the section Olympics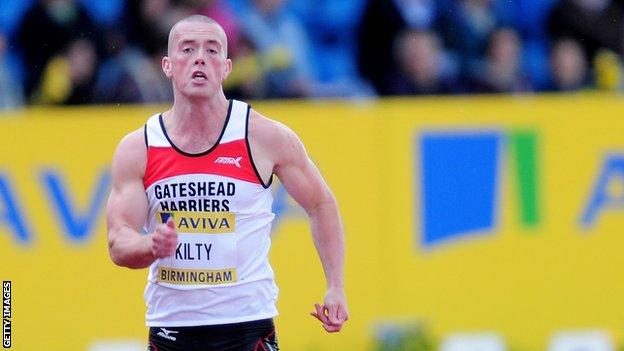 British 200m runner Richard Kilty has said he will use the disappointment of his 2012 Olympic omission to prove UK Athletics wrong on the track.
Kilty was left out of the Team GB squad, despite possessing the required qualifying standards needed.
"It flattened me but now it's given me fire in my belly," Kilty told BBC Tees.
"When the Olympics are on I guarantee I am going to be abroad running faster than every member in the British team just to rub it in their faces."
He added: "I'm determined to go out and prove everybody wrong."
The 22-year-old, from Middlesbrough, saw his appeal rejected on Friday by UK Athletics, who have selected two sprinters in Christian Malcolm and James Ellington despite three places available.
"I was the only man in the country eligible for that third spot because I had two A standards," Kilty added.
"I don't want an answer from them (UKA). I want to give them an answer, a reason why they should have selected me.
"I have lost a lot of hope in UK Athletics now. I have ancestors from Ireland and that's a route I may go down, to compete for another country.
"It's been a dream of mine since I was 10 years old to compete in a home Olympics. I feel let down by my governing body.
"I worked very hard, and truly expected I was going, it seems obstacles have been placed in my way."
Listen to the full interview with Richard Kilty on BBC Tees Sport on the iPlayer here.