London 2012: GB sprinters will struggle, says Colin Jackson
Last updated on .From the section Olympics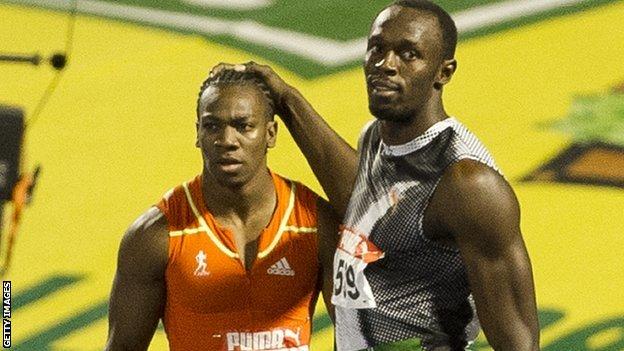 Former world champion and Olympic medallist Colin Jackson believes British sprinters will struggle to compete at London 2012.
Jackson, the former 110m hurdler, says British sprinting "doesn't feature in any shape or form" at world level.
"We just have to embrace the fact that at this moment in time sprinting isn't a strength for us," he told BBC Sport.
"We have waves. Sometimes the waves go in our favour in certain events and sometimes they go against us and move into other events.
"Sprinting was pretty dominant when we had Linford Christie, John Regis and Roger Black. Now it seems to have moved across to middle-distance and long-distance running.
"What we have got to hope is that people like Usain Bolt and Tyson Gay are role models across the globe.
"If they can inspire our boys to work a little bit harder and be better sprinters, then it will work out wonderfully well for us."
Jackson was also part of that "dominant era" as he won two gold medals in the World Championships in the 110m hurdles and a silver medal at the Seoul 1988 Olympics.
His world record of 12.91 seconds stood for more than a decade and he remains the 60m hurdles world record holder.
As ever, the 100m is likely to generate the most headlines this summer.
Gemili is the only Briton to have qualified outright, while the Jamaican trials ended in surprise as the world's fastest man Usain Bolt was beaten twice - in the 100m and 200m - by running partner Yohan Blake.
"I'm not sure if it is really such a big shock really," added Jackson.
"We have all known that Usain has been struggling with his start this season, but he's still gone under 9.8 seconds and he's still got the capabilities of going under 9.7 seconds, which no-one else in the field except for Tyson Gay has achieved in their lives. So, for me, Usain will still be the man to beat.
"If any of the Brits get through to the [100m] final then they will have done phenomenally well.
"There are great sprinters in Trinidad and in the Bahamas. Of course the United States will have strong sprinters so when you put British sprinting into [the context of] world sprinting it really doesn't feature in any shape or form."
All eight Jamaicans in the final of the 100m qualifying trials ran the Olympic 'A' standard as the country continues its tradition of producing talented sprinters, something which comes as no surprise to Jackson.
"Sprinting in Jamaica is really a lifestyle. Everyone from being a young kid is constantly lining up and having street races and it's all about who is the fastest in the street and who is the fastest in the town.
"If you go back many years, the best sprinters always seem to have that Jamaican connection.
"Donovan Bailey, the 1996 Olympic champion, was born and bred in Jamaica. Linford Christie, the 1992 Olympic champion, was born in Jamaica. So they have had a huge history in sprinting from way back when. Just sometimes the athletes who win medals don't wear Jamaican vests."