London 2012: Mills & Clark on sailing, success and Snoop Dogg
Last updated on .From the section Olympics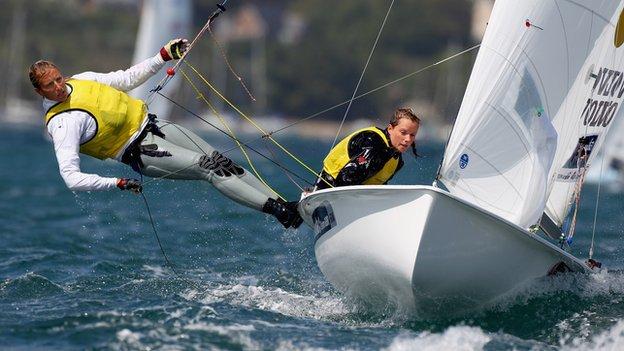 In the latest part of our weekly#olympicthursdayseries profiling leading British hopes, Olympic sports reporter Nick Hope meets 470 world champions Hannah Mills and Saskia Clark.
Think of the great British sporting partnerships: Redgrave and Pinsent, Torvill and Dean - how about Mills and Clark?
Their names may not roll off the tongue just yet, but the pair are favourites to plot their way to Olympic gold this summer - less than 18 months after they first stepped into a boat together.
"I think it's worked so well because we both want it so much," Clark told BBC Sport.
She competed alongside Christina Bassadone at the Beijing Games, finishing sixth, but was then paired with two-time Olympic champion Sarah Ayton, who was looking for a new challenge after the Yngling class was axed from the London 2012 sailing schedule.
The pair made steady rather than spectacular progress, but in February of last year Ayton decided that the combining motherhood with life as a full-time athlete was too much and she quit the sport.
"It was a massive deal," reflected Clark. "Sarah and I were in a campaign and believed that we could win a gold medal.
"I understood and supported her decision 100% but as soon as Sarah told me, I think I was even more determined to be on the start line in 2012 and try to achieve a childhood dream."
Mills, who had struggled to find a compatible crew after joining the fleet following the Beijing Games, admits the early days of their partnership provided a steep learning curve.
"We both came into the relationship open-minded," the helm told BBC Sport.
"We knew we would find out very quickly whether it was going to work or not, but even after the first week we knew we had something to work with and it was exciting."
Mills and Clark have since attained podium finishes in all but two of the regattas they have competed in, proving Team GB sailing manager Stephen Park's decision to match the pair with a near 10-year age gap to be a masterstroke.
"It's about trying to match up the personalities and the skills," Park told BBC Sport.
"With Hannah we have someone who is young and relatively inexperienced but with massive natural flair and talent.
"With Saskia we had someone who perhaps had a little more of a mature head on her shoulders and structure, in terms of managing both life and competing.
"We hoped that by bringing those two together they would gel well and get the best out of both of them, which it has done."
Following silver at the 2011 Sail for Gold and Olympic test events, Clark admitted they had "surpassed" their expectations, and in September they joined three-time Olympic champion Ben Ainslie in being named among the first group of athletes to be selected for Team GB.
"I didn't believe it when I first heard the news," reflected Mills.
"I'd built it up in my mind that our trials would be carrying on, so it came as a big surprise."
The news also came with an arguably even bigger surprise - a message of support for Welsh sailor Mills from US rapper Snoop Dogg, who posted an online video ahead of a concert in Cardiff.
"My first thought was, 'There's not a chance is that true,'" said Mills.
"I think he must have found the story [about being the first Welsh athlete selected for London 2012], quite liked it and wanted to show his support, which was wicked!
"Then we went on Twitter and found that he had written me a message and got very excited again. I like his music, it was cool."
Now working alongside two-time Olympic medallist Joe Glanfield, the pair continued their run of impressive silvers, finishing second to Spaniards Tara Pacheco and Berta Betanzos at the World Championships in Perth, Australia, in December.
They were not satisfied with the progress though and, with their boat retuned and their minds refocused, they truly announced their presence amongst the 470 fleet elite by claiming a high-pressure world title in Barcelona in May.
"It was a huge confidence boost because it proved to ourselves and our competitors that we can win events," said Mills.
"Saskia and I both have very different approaches to sailing and different ideas, and managing those is what has really come together over the last six months."
Clark added: "We came together three months before the Olympic trials and, egos aside, we just had to make it happen.
"The real jump forward we made was because we took time to dissect our communication in 2011 and then started putting it back together, which is now really starting to work, and that's key in the 470."
The British pair now face a different type of challenge - after a year of being viewed as underdogs they find themselves favourites for an Olympic gold.
"It's all about how you as a team use that world championship title and for us, whilst it was amazing, we know the job is the Olympics," said Mills.
"Our competition will be pushing hard, but we are still a new team and know where we need to improve.
"I think that's a good motivation and that it can also help ease expectation and pressure on us."
Clark added: "I think if we get too bogged down in what the nation expects then that could all backfire on us!"
Can Mills and Clark claim an Olympic gold in Portland and Weymouth? Get involved in the debate by adding#olympicthursdayto your tweets.